This has nothing to do with astronomy, but in a couple of recent posts I've mentioned watching the Chicago Blackhawks on their Stanley Cup Playoff run. Well, Wednesday night they won the Stanley Cup in Philadelphia! It's been a nonstop party in Chicago ever since.
I watched the clinching game at Applebee's restaurant in Portage, Indiana with Hillary, then spent Thursday buying Stanley Cup Champion Merchandise for myself and my family, and making plans to attend the parade and championship rally Friday with my friends.
My longtime friend Jim wanted to go, along with his son Jay, and brother Justin. Jim and I played roller hockey together many years ago, and although the Pittsburgh Penguins have been his favorite team for decades, he roots for the Blackhawks as well, so he was a no-brainer to come along. Hillary joined us as well, making for a crowded backseat in my little PT Cruiser, but I'm sure the hour or so of discomfort was well worth it.
After I picked up Jim and Jay just after 5 AM, it poured rain while I drove around to pick up Hillary and Justin. It stopped raining for the drive into Chicago, but I decided not to fly my Blackhawks flag driving on the expressways. We put them up though when we got into traffic just before reaching Lake Shore Drive, so that everybody would know where we were going.
My mom had called just before we hit the road, and reminded me that Michigan Avenue was going to be closed, and that put a little wrinkle in my plans, which turned out to be a good thing. I wanted to park at the Grant Park underground garage, which has entrances from Michigan Ave., but instead parked at Navy Pier. The walk was a little longer, but it allowed us to sneak up Wacker Drive from the east, a direction not many people thought of, so we were able to get very close to the stage set up at Michigan & Wacker.
I had told Hillary Thursday night about my experience in 2005 for the White Sox World Series parade, and how I had a moment along a deserted Michigan Ave. (that parade followed a different route) when the Sox were leaving the rally, and ran alongside the buses yelling thank you to the players, and seeing Mark Buehrle holding the Trophy. I had a feeling we would have a similar moment Friday. I was right, but our moments lasted for the entire rally!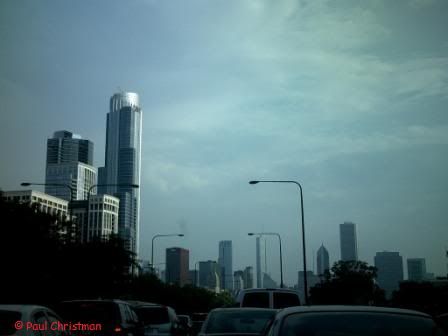 Driving Lake Shore Drive.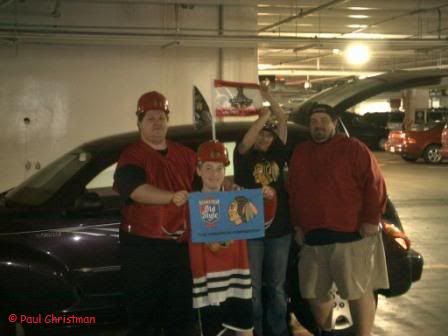 Posing with the PT Cruiser still decked out.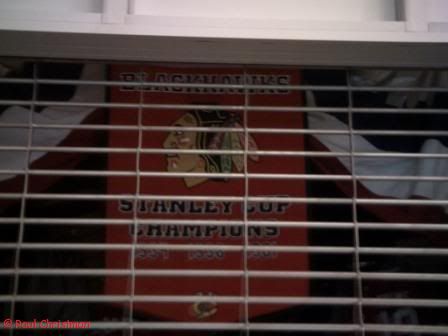 The banner in this store is now outdated!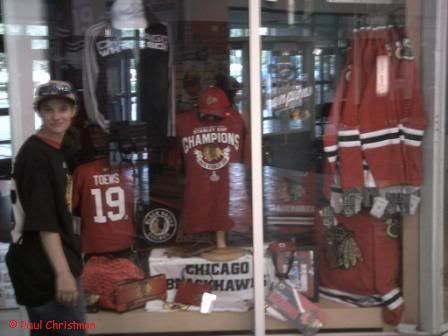 Hillary window shopping.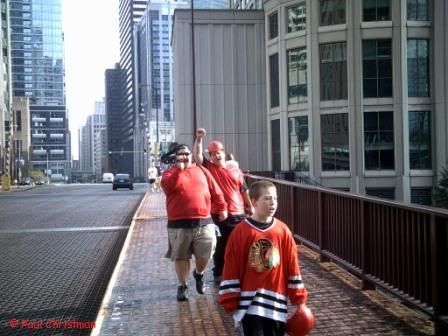 Crossing the River on Columbus Drive.
Hillary's Jonathan Toews shirt.
Heading west down Wacker Drive.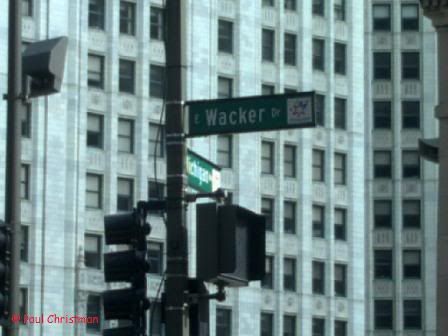 Michigan & Wacker, the place to be!
Hillary.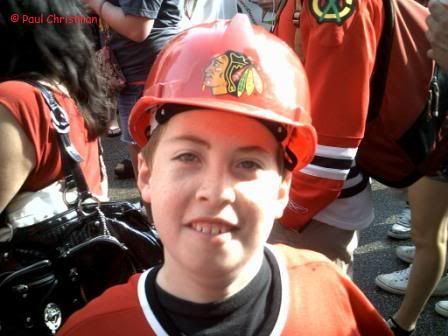 Jay.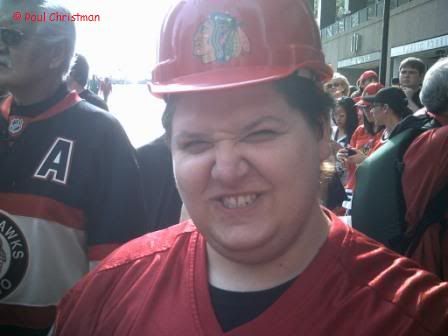 Justin.
Jim.
Toews banner on the Tribune Tower.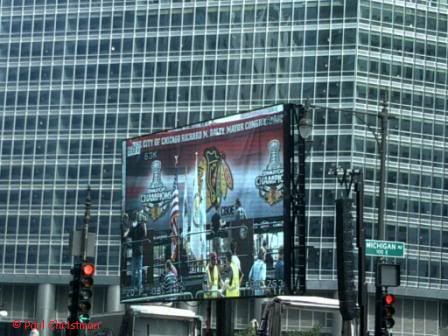 We had a great view of the video board.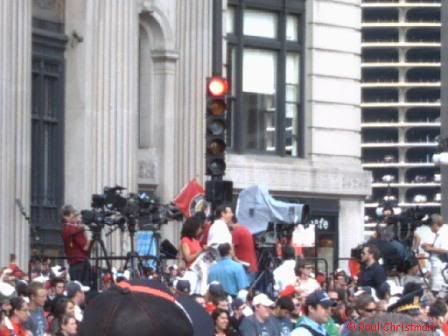 I swear the guy in the white shirt is Mark Giangreco.
There were people everywhere...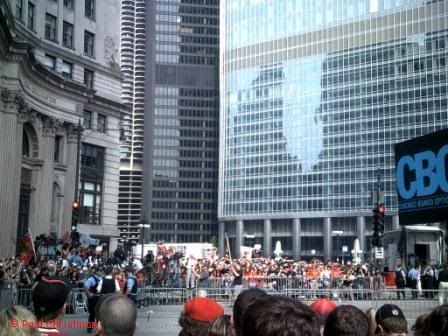 ...near the stage...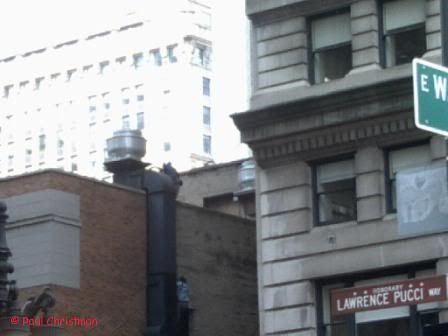 ...climbing onto rooftops...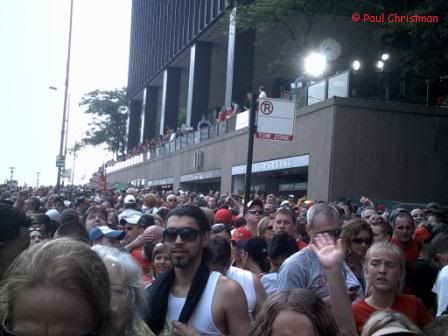 ...lined up behind us...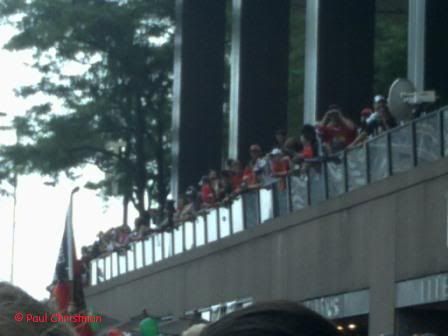 ...along a balcony...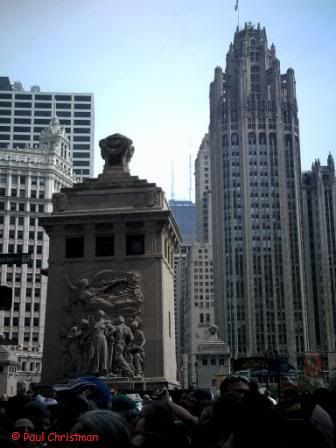 ...in the Michigan Ave bridge tower...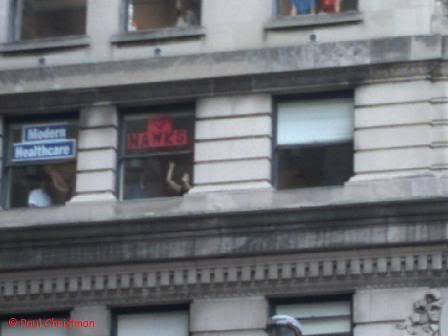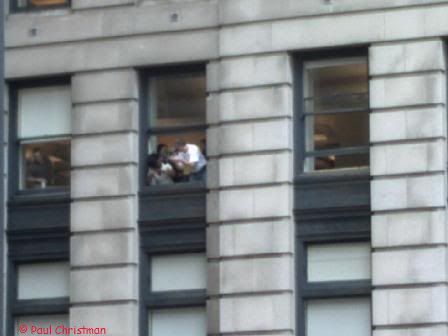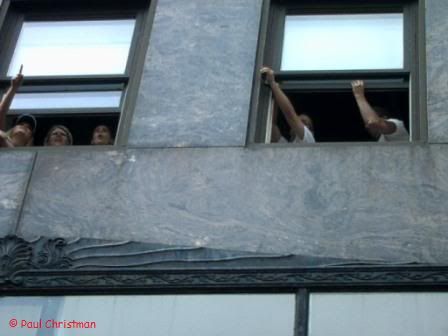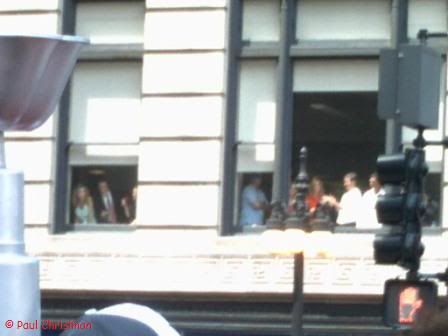 ...looking out windows...
...on a Trump Tower terrace...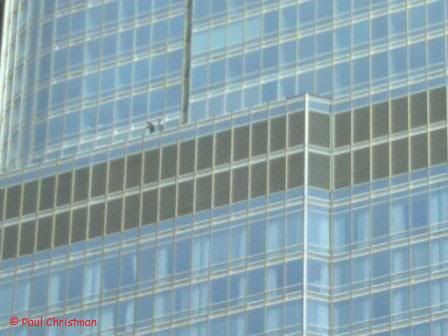 ...and WAY up on a Trump Tower catwalk...
Jay. I felt bad for him, being short and all, but most kids would have traded place with him in a second.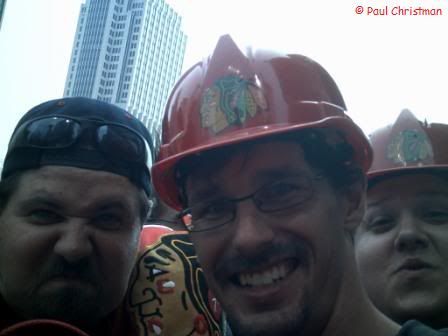 Borrowing Jay's helmet for a mean shot.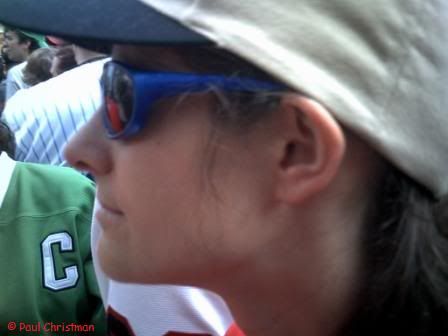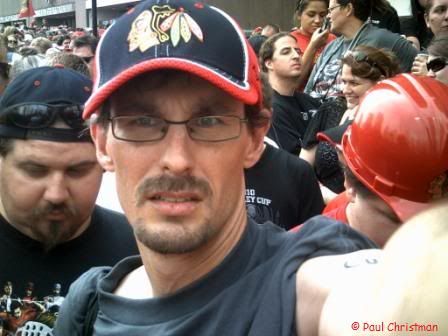 I think the heat was starting to get to us.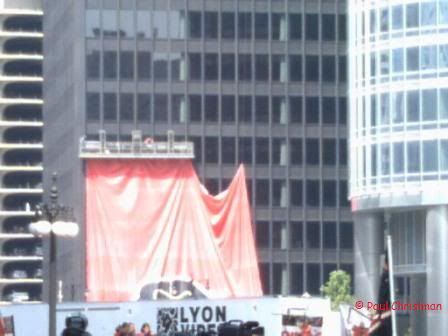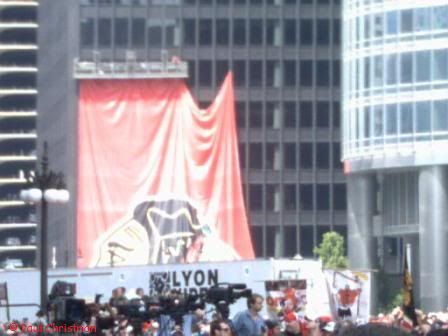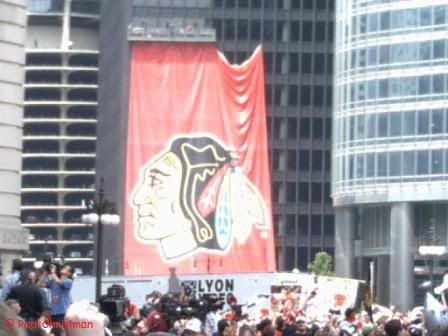 A ten story banner. Don't be fooled. It took forever to raise this thing...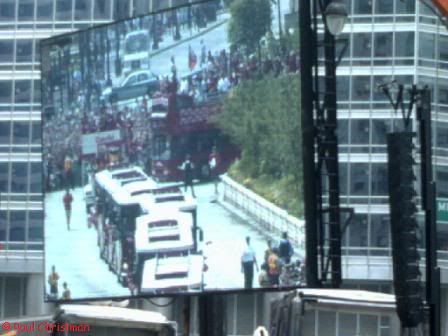 Video board showing buses turning on to Michigan Ave, our first indication they they were getting near.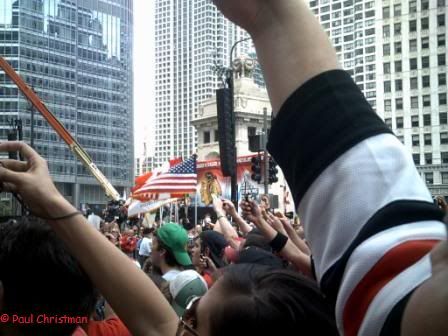 The color guard.
World famous Clydesdales.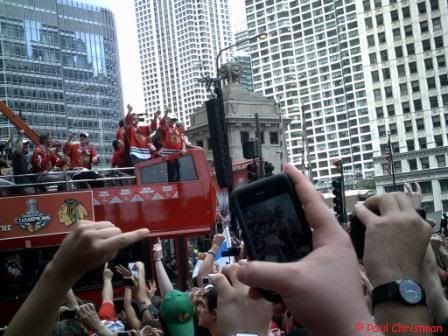 Blackhawks old timers, including Piere Pilotte, Denis Savard, Bobby Hull, Tony Esposito, and Stan Mikita.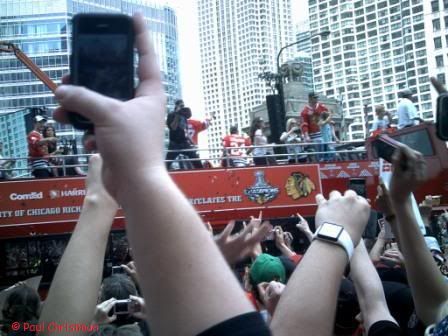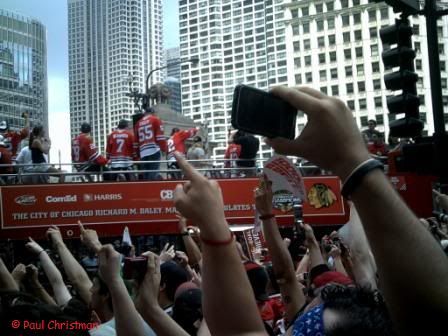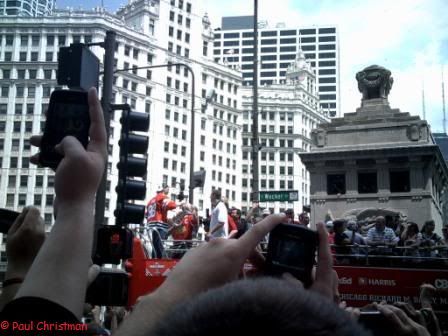 Our first look at the Cup!
Jonathan Toews with Lord Stanley's Cup.
Patrick Kane, who scored the Stanley Cup clinching goal, and team captain Jonathan Toews were in the last bus, and were sporting the Cup as they drove by. That bus parked almost directly north of us, and while the buses in front of them unloaded, young Kane was up to some entertaining antics for the crowd, drinking a bottle of champagne, chugging beers thrown up to him, signing autographs on hats and jerseys tossed to him, and of course, raising the Cup!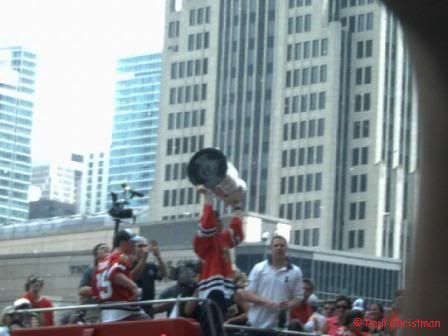 Patrick Kane.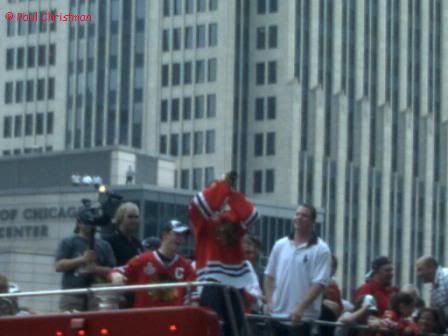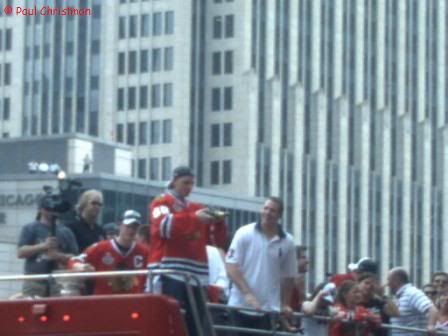 Kaner, downing a bottle of champagne.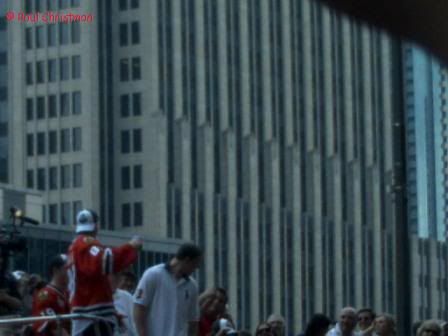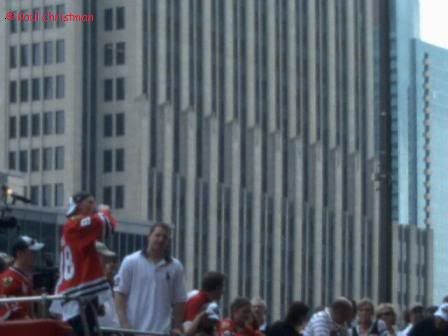 Somebody tossed a beer to Kaner, which he promptly chugged.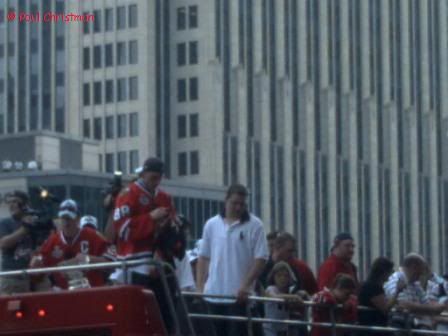 Kane signing a jersey for a fan.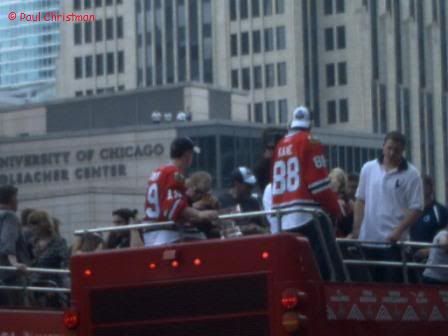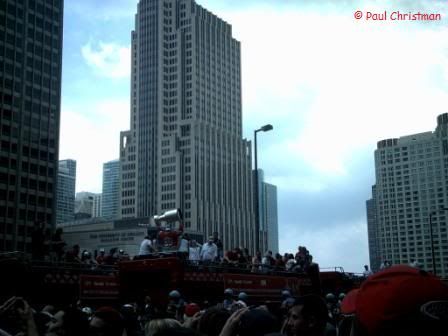 Hoisting the Cup.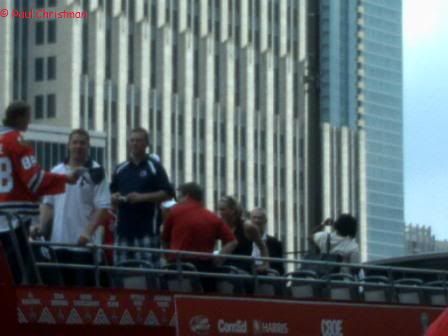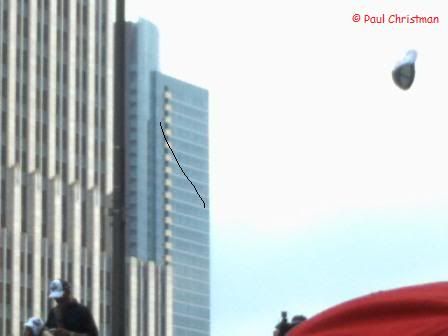 Kane signing a hat and throwing it into the crowd.
We were far enough back in the crowd that we didn't have a great view of the stage, but the huge video board set up next to it was perfectly placed for us. The crowd screamed and cheered through the singing of "The Star Spangled Banner" (a tradition at Blackhawk games, and there was nothing like hearing it at the old Chicago Stadium; the place was LOUD!), and the Chicago based Lima Lima flight team did a fly-by down Wacker Drive. Right over us!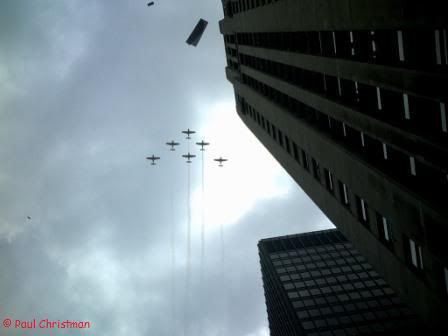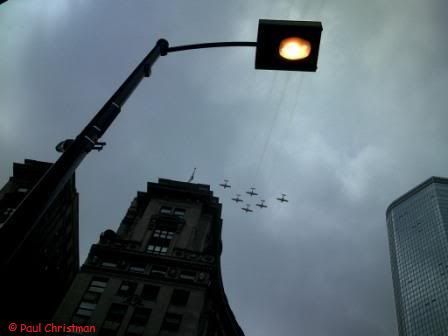 Fly by of the Lima Lima team.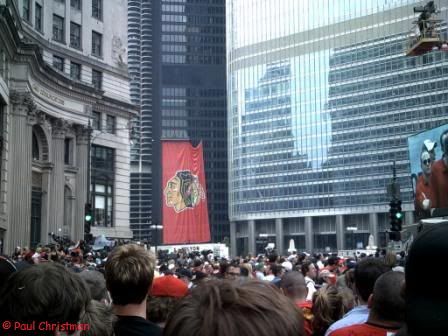 Finally that banner was raised!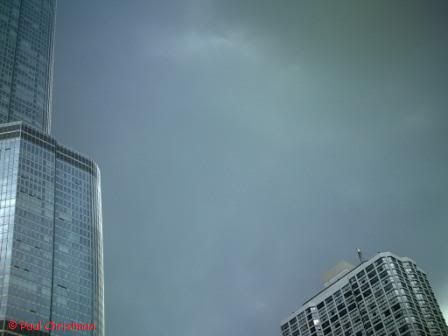 Storm clouds threatened, but did not open up. Whew!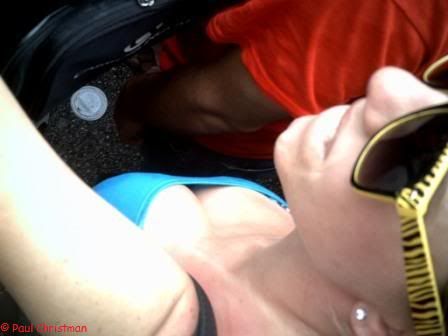 Our one negative experience. This girl and two guys with her pushed their way in front of us, so I told her she had nice tits, hoping they would leave. They didn't, so I took some pictures of said nice tits, and still they wouldn't leave. I swear she was rubbing up on me too, and I can't say it bothered me much. Eventually they left.
Mayor Daley, Governor Quinn spoke, and were booed thoroughly, the Blackhawks staff was introduced, and then the players came out. The Blackhawks had a wrestling championship this season, and after every game the player who held it would pass it to the player he thought had the best game. Dustin Byfuglien came out with the belt, and announced that he hadn't had a chance to hand it off Wednesday night, so he called Patrick Kane up to take possession of the belt! Cheers everywhere!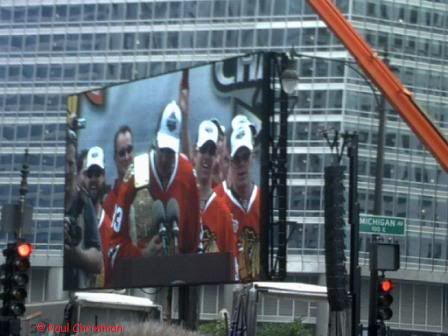 Dustin Byfuglien, about to hand off the wrestling championship belt, a morale booster for the guys during a long season.
Finally it was over, and the players left the stage for their waiting buses, and we hung around for a few minutes, wondering whether to fight our way through the crowd, or wait until it dispersed. I decided we should try to exit the area, since it was extremely humid, and the thick air was stifling. Walking would at least give us a slight head wind. Quite a few people had already left, and as we were passing the buses, we noticed that Kane, Byfuglien, and Toews were on board, and ready to show off the Cup again. Damn our luck! I have no idea how long we were standing there, taking it all in and snapping picture after picture as the players took turns displaying the Cup, but it was the best part of the day. Finally, the buses started down Wacker, and we walked back to Navy Pier to browse the air conditioned shops before heading home.
Fireworks officially ending the rally.
The crowd went crazy when they played "Chelsea Dagger," the song they play at the United Center after the Blackhawks score.
The guys in front of us lifted their girlfriends on their shoulder to display a giant banner.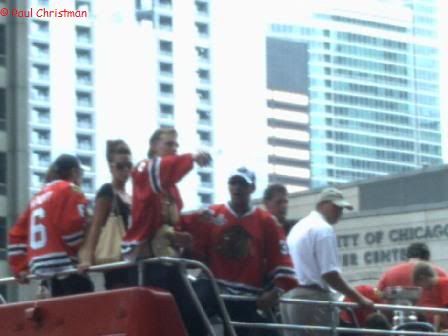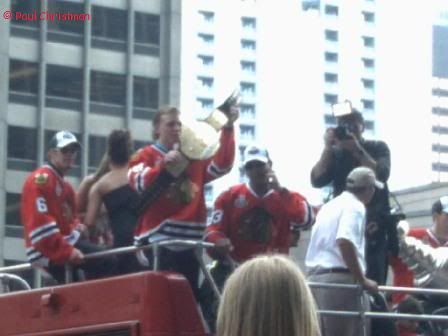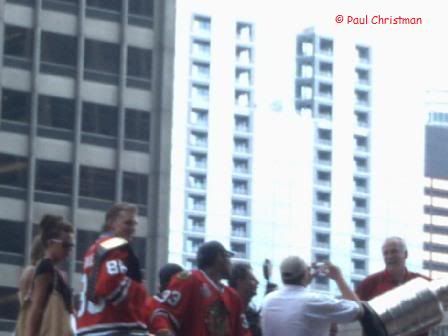 Kane showing off his wrestling title belt.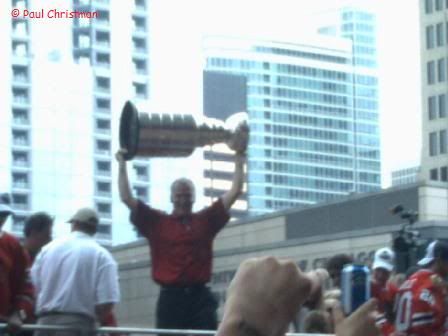 Head Coach Joel Quenneville raising the Cup. It's the first time he smiled all season.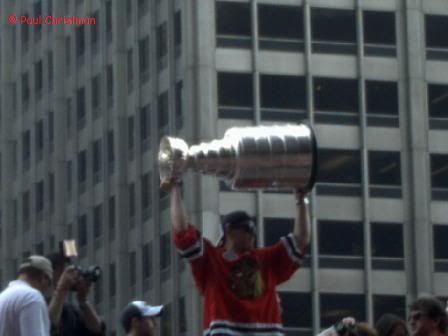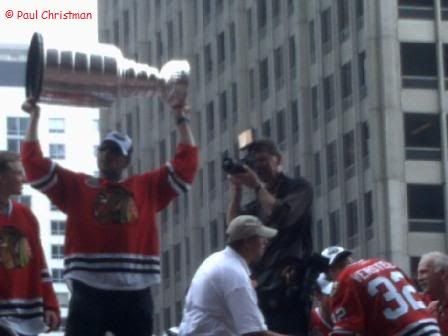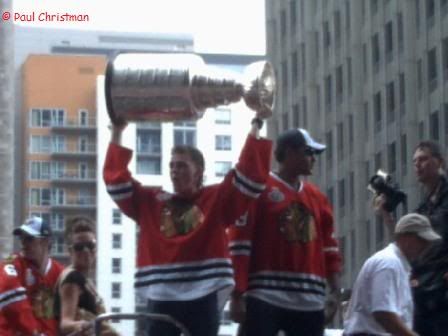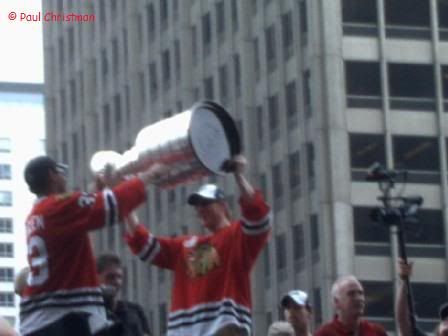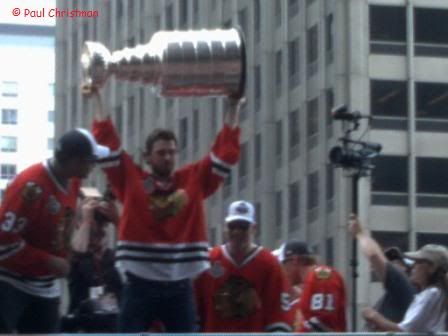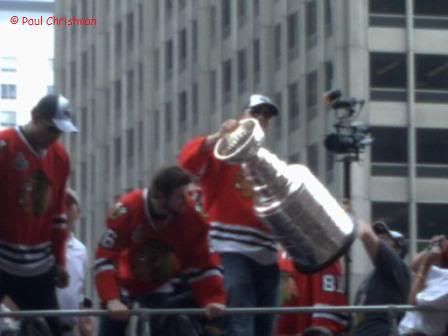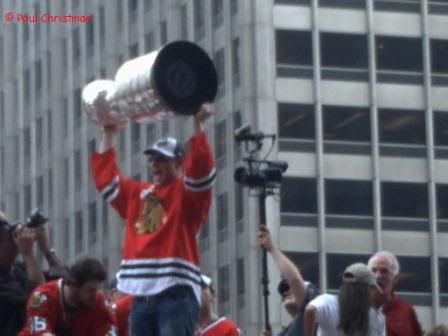 Passing the Cup around.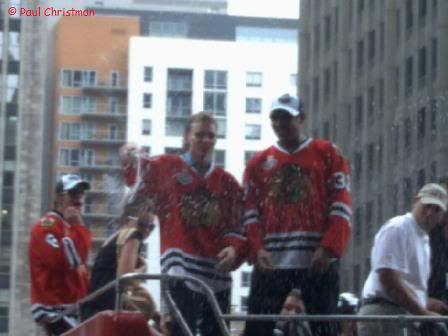 Kane pouring beer on the crowd. Byfuglien had no part in this whatsoever, I'm sure.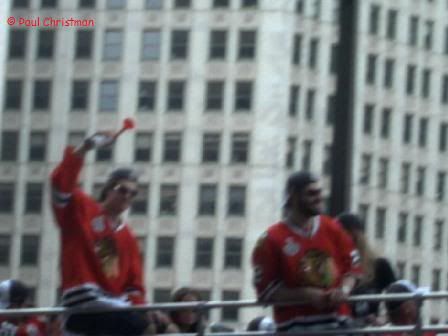 Brent Seabrook, on a different bus, didn't have the Cup, but had an airhorn to get everybody's attention!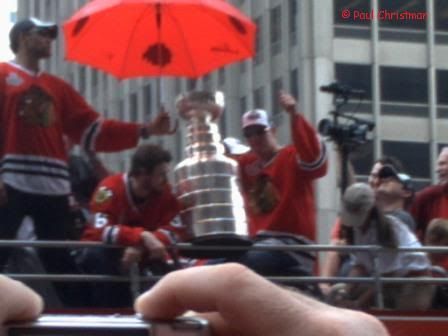 It wasn't raining. More of Bygfuglien's antics, I guess.
Goalie's have a lonely job, and it didn't change for Antti Niemi after winning the Stanley Cup, back by himself.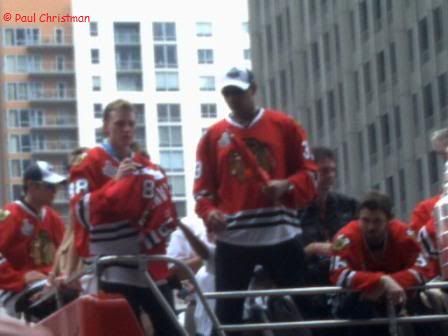 A few more autographs from Kaner.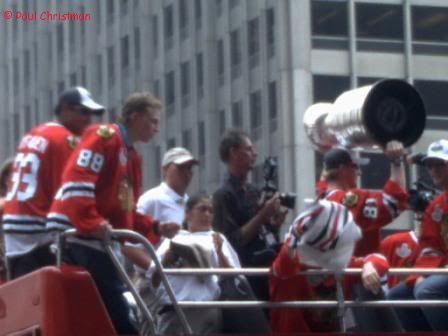 Marion Hossa finally lifts the Cup, after losing in the finals in 2008 with Pittsburgh, and 2009 with Detroit.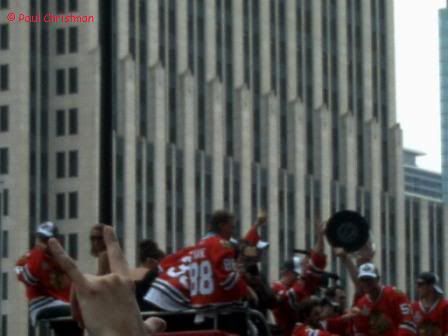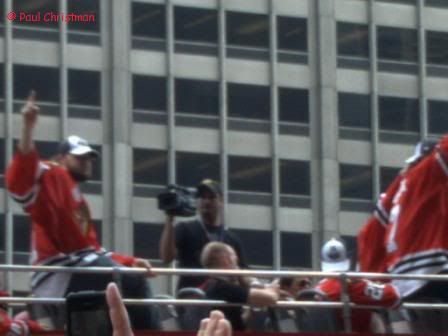 Last look at Lord Stanley's Cup as the buses start to drive away.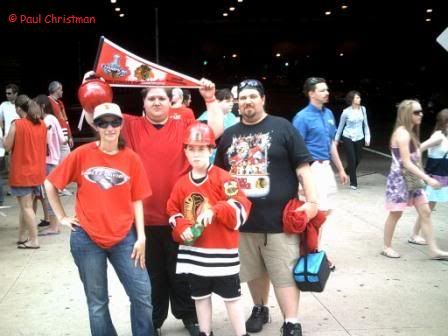 Justin and Jay bought championship pennants from a vendor.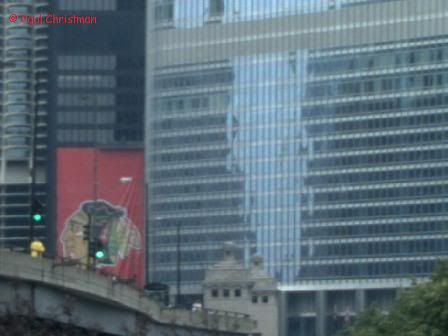 One last look at the giant banner.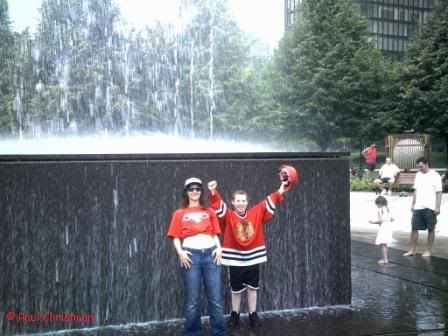 Cooling off at a fountain across from Navy Pier.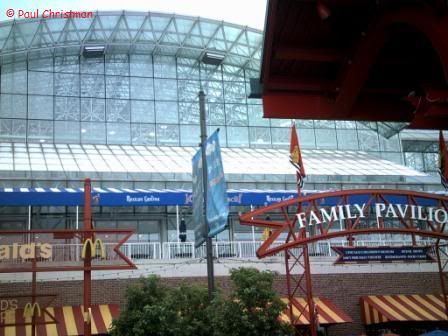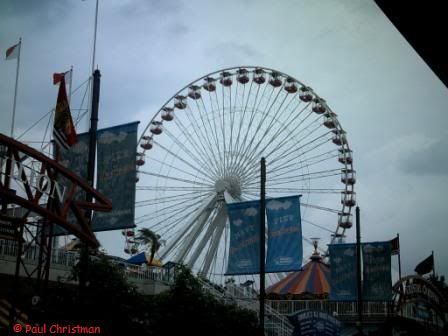 As with the rest of the city, Blackhawks flags were all over Navy Pier.
I played hockey in high school, and spent a few years playing roller hockey after that. I haven't cared too much about hockey since I stopped playing, but between a great silver medal performance by the U.S. Olympic team last February, and the Blackhawks championship run, I found the love I once had. Since Chicago is a sharply divided baseball town, the White Sox World Series championship meant more to me, giving me bragging rights not only nationally, but more importantly in the cubbie dominated Chicago area. I still consider the World Series parade the best day of my life, but the experience of Friday's parade and rally was far better. I had seen the Cup in 1992 when the Blackhawks were in the Finals against the Penguins, and again in 1996 at Hawk Quarters on Michigan Ave. The Stanley Cup is the oldest, most storied trophy in North American sports, and the most challenging to win. Finally seeing it hosted my hometown team, with my some of my closest friends was really too special for words.
Congratulations Chicago Blackhawks!