Saturday night was just what I needed! It seems like we've had nothing but rain and clouds for weeks. I still haven't had any serious observing time alone, but that had to wait this week, since the Moon and planets made for great public viewing. My two attempts at sidewalk astronomy in Valparaiso during the week didn't go over well, but for some reason people were in the mood to check things out Saturday.
Something was going on in front of the courthouse when I drove into town around 6 o'clock, but I didn't check it out. Instead I went to Blackbird Café for iced coffee (of course, my readers should know that by now) and free wi-fi. I also took along my go-to optical tube assembly to try to get the secondary mirror re-aligned and collimated. Sarah, the girl I talk astronomy with there, came in, so I told her I was going to get out on the street when I was done and have a look at the Moon and Saturn.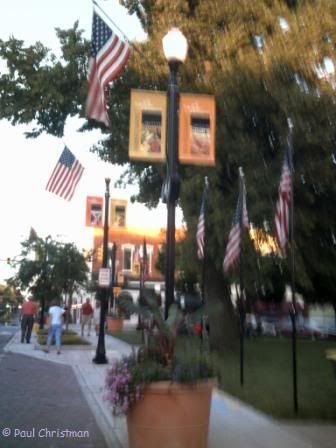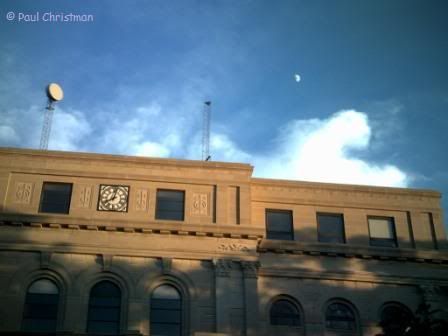 It was still early with plenty of daylight when I first hit the street, using just the Dobsonian for lunar viewing. Walking down the street with it, a nice older milf asked if I was using it to, um, check out women's breasts. I said no, that's what my binoculars are for! Seriously, she was flirting hard, and I should have tried to get her name and number (no ring on her hand), but when I went back to try to talk to her later she was gone.
All along the Lincolnway sidewalk were chalk murals, apparently part of a children's art contest earlier in the day. Here are some of the ones I liked best.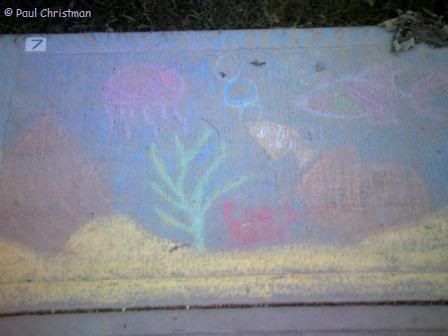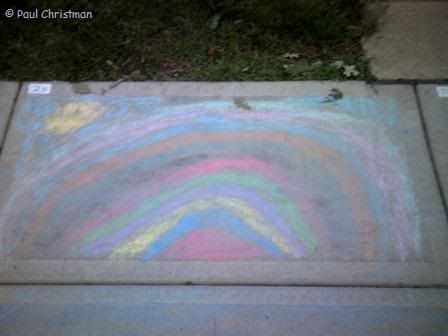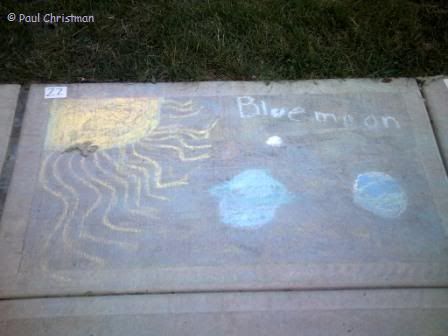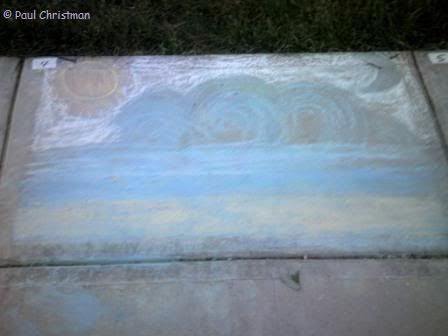 The last one is my favorite, even though the Moon phase is wrong. Something I can try to point out in the future!
Anyway, it was time to start lunar observations, in full daylight, yes, but the crowd was already dispersing, and I wanted to get some attention before dark. The corner of Lincolnway and Franklin had good pedestrian traffic still, and more importantly, a good view if the Moon.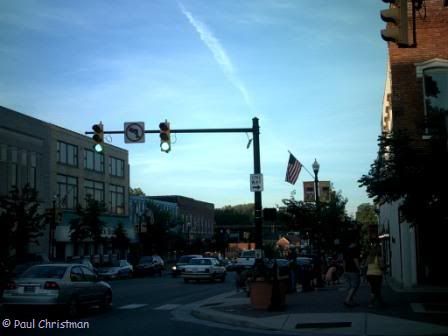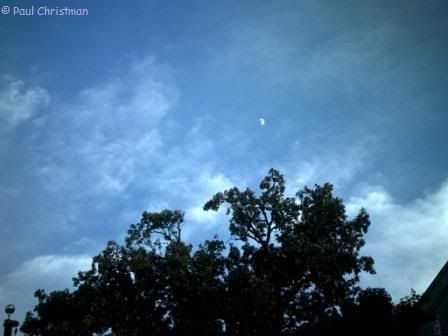 Quite a few people stopped by to take a look.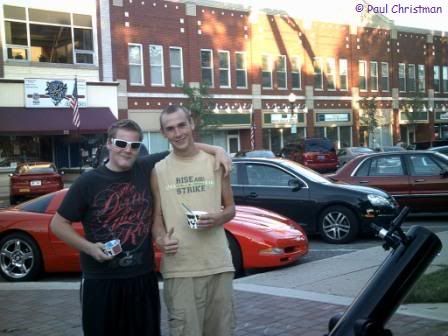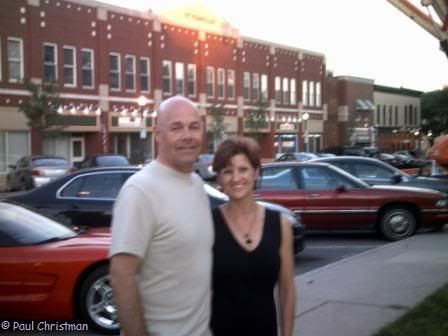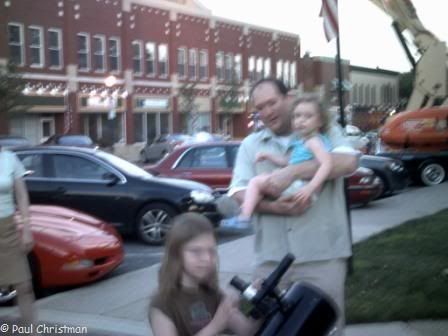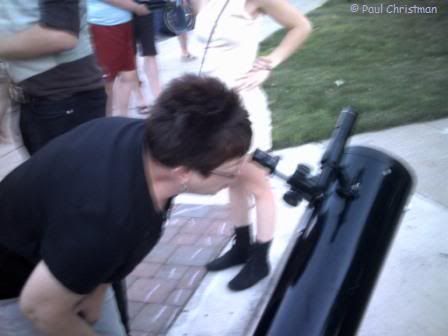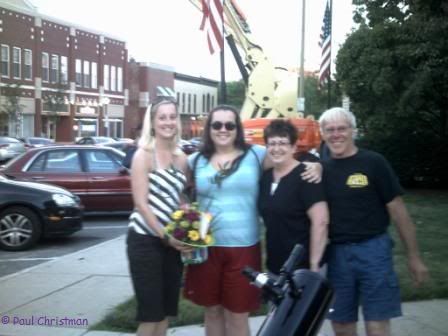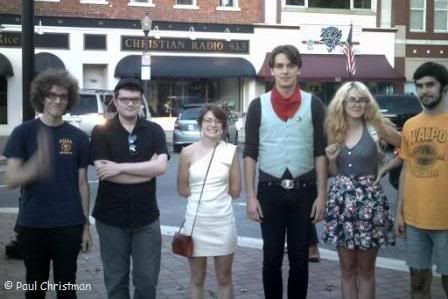 Sarah, the girl I talk astronomy with at Blackbird Café, in the white dress, brought her friends down to see the Moon. They never came back to see Saturn though.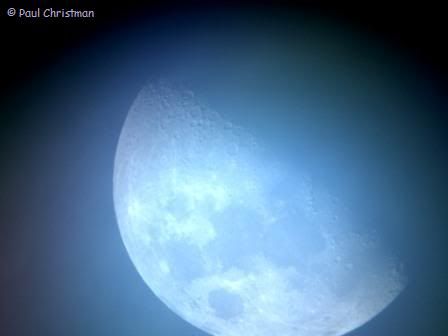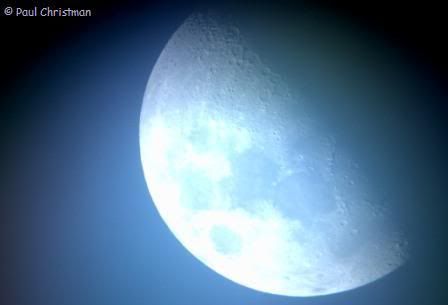 A look at our Moon in the daylight.
It was a good spot to be seen early, but my car (with my other telescope in it) was parked a block west on Washington, and I knew that to see Saturn, I would need to be down that way. The Moon was just about to clear the trees at that corner, so I carried the big Dob back to what's becoming my usual spot. Being closer to my car, I could keep an eye on it while trying to set up the go-to. As soon as I came down to Lincolnway & Washington, a group of unsupervised kids aged between 8-11 years old, I'm guessing, wanted to have a look. At first they were cool, but before long they were acting like smartass little brats, testing my patience. I was trying to set up the go-to, not even sure if it would be usable after my collimation attempt, and two of the boys were sticking their faces in everything I was doing. I kept asking them to back up, please don't mess with that, but they wanted to push limits. I was almost done, and about to turn into a real jerk to keep these kids in line when they calmed down a little, had some last looks at the Moon, and left. I seriously need a rule about no unsupervised kids!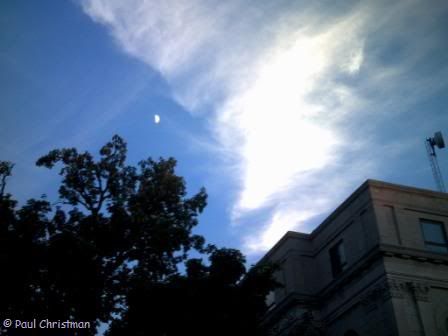 Back to the corner of Lincolnway & Washington, where the Moon and Venus were waiting to be viewed.
After the kids left me alone, things slowed down some, but it was getting dark now. I was still busy with quite a few people, but I still had lulls when I could get more pictures of the sky.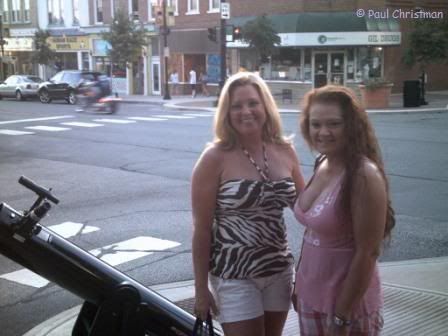 Mmm... These ladies smelled as wonderful as they looked.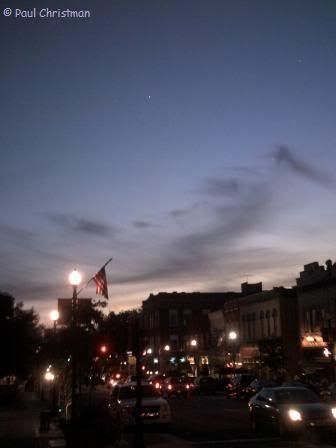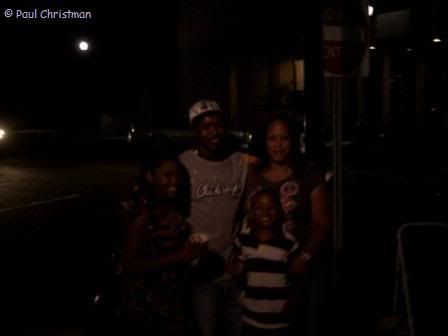 Troy and Maria, with their kids. Troy said, "Paulie, this is a good thing you're doing." The little girl also knew it was a waxing gibbous Moon, which brought a smile to my face.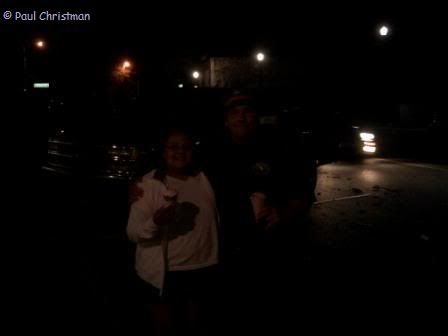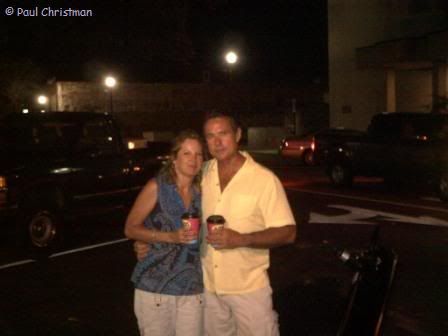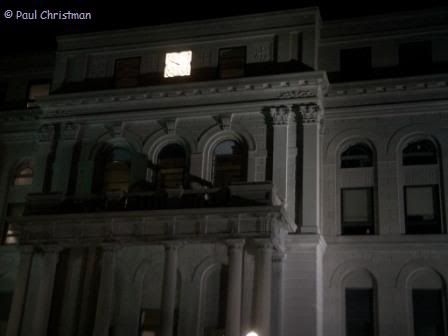 Just before 10 o'clock things slowed down, so I took some lunar shots and packed up.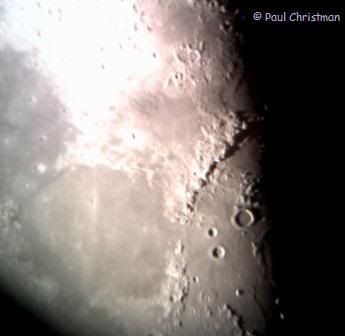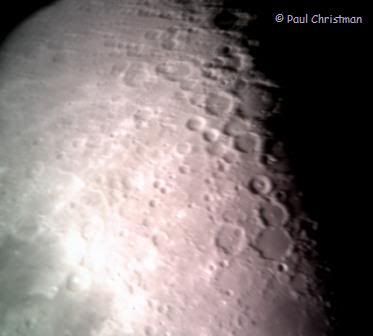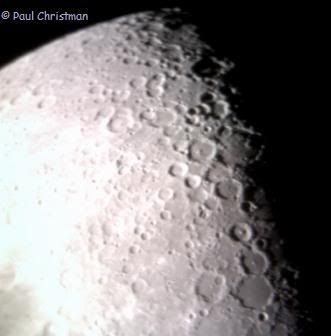 My set up at Lincolnway & Washington.
Wow, what a night. It was just what I needed after staring at clouds for what seemed like weeks. I'm still looking for a serious solo session soon, but in the meantime a good night of sidewalk astronomy always makes for an interesting night.