I'm sorry it takes me a few days to get stories posted, but I think this one is worth the wait. I had been looking forward to Thursday's full Moon observation outside Adler Planetarium with Astro Joe and the Chicago Astronomers, but I had no idea how great the night was going to turn out to be. I know, I know. Full Moon is the bane of astronomers, but these sessions are more about hanging out and having fun than serious astronomy. Besides, it's always fun to see the big red Moon slowly rise out of Lake Michigan, so yeah, I was excited about the night.
I always try to leave early since the traffic on Chicago expressways is always unpredictable, but I was running later than I wanted to when I picked up Hillary and started our commute downtown. I decided to pay the outrageous tolls on the Indiana Toll Road/Chicago Skyway in order to save some time, and it paid off. We didn't have to contend with traffic until we passed Sox Park on the Dan Ryan Expressway, just before the exit for Lake Shore Drive. From that point it was a traffic nightmare. Getting on the Stevenson Expressway for the short hop over to LSD, we noticed that Chicago Police had southbound Lake Shore Drive completely blocked. We also saw a Chicago Police helicopter heading south. That's when I remembered that president Obama was coming home to Chicago for the holiday weekend.
Coming up to my usual exit on 18th Street, two Chicago squad cars had the road blocked. I asked the officers if it was possible to get down to the Planetarium, and they said no, everything was blocked for the next hour. Great. That would mean we wouldn't get there until just a few minutes before Moonrise at the earliest.
I was about to text Joe about the situation, but the next road wasn't blocked, so I was able to get to Solidarity Drive, the street the Adler sits at the end of. There was a Chicago PD car sitting in the right lane, but I slowly drove around, and he didn't try to stop us. I stopped anyway. Coming from my left were helicopters! Marine One and the President! My camera was in my bookbag in the backseat, but I still had my phone in reach so I got pictures of the last two helicopters of the convoy.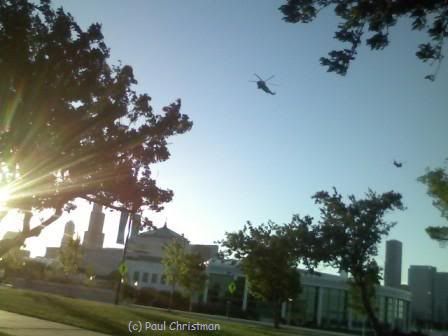 Marine helicopter heading south.
We had parked in front of the Adler and were unloading gear when the helicopter convoy came by again, apparently on their way back to O'Hare Airport. It was exciting because I had a chance to get better pictures, but knowing that the First Family had already been dropped off, it made little sense to wave.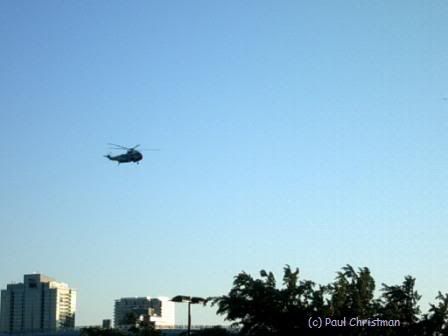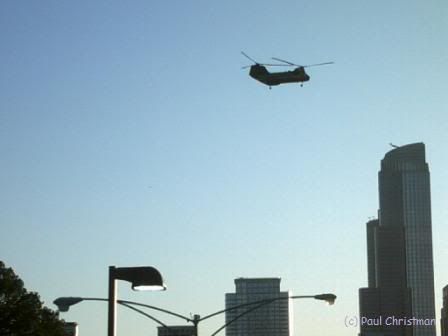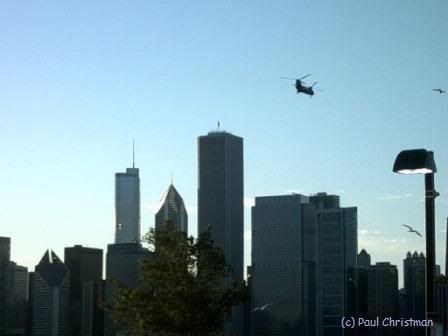 Of course I took some of my standard pictures around the Planetarium, which may get boring for readers, but they also capture the sky conditions, so I think are worth including.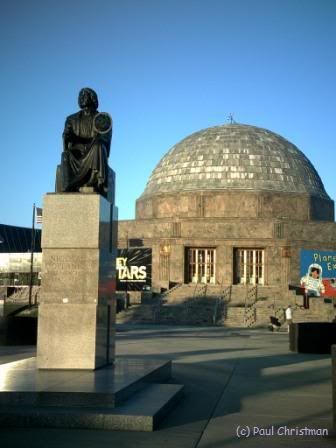 Copernicus.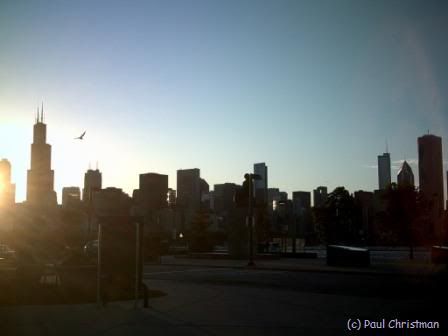 Clear western sky.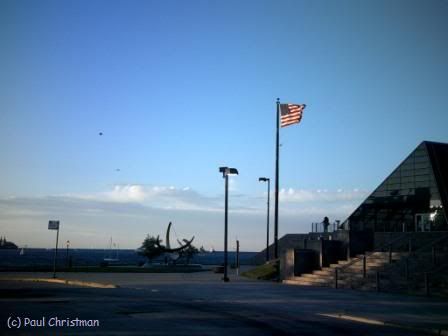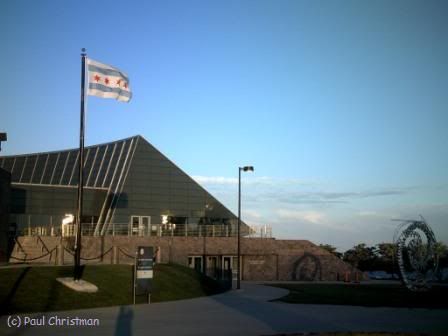 A strong breeze waving the flags.
Walking down to the usual full Moon set up spot by the spiral stones of America's Courtyard, I saw we weren't the first ones there. At first they looked liked rabbits sitting on the grass, but then I realized it was a pair of ducks sleeping with their heads tucked away. The male looked up as we approached, but must not have sensed danger because he went back to sleep. I figured they wouldn't hang around long, though.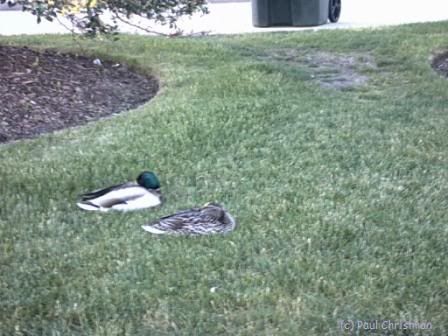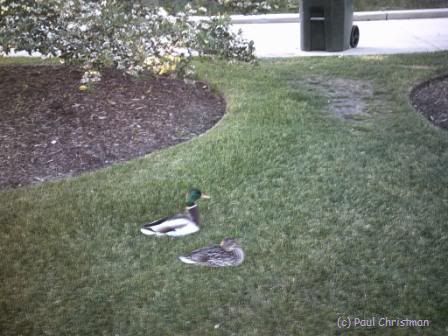 Best to let sleeping ducks lie, so I've heard.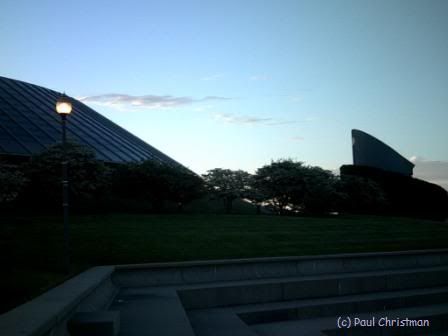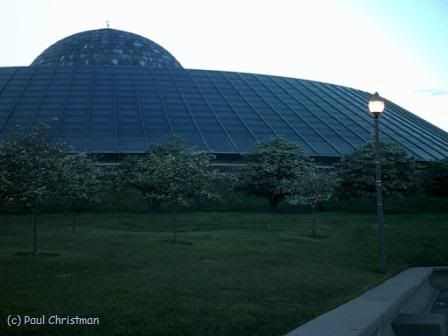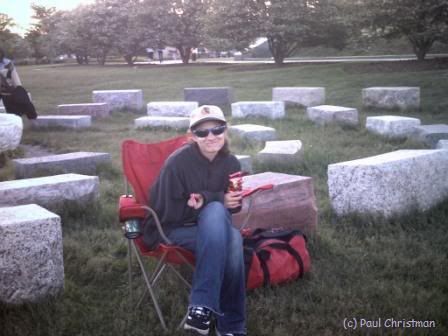 Hillary.
Joe, Linda, Steve, Fred and his wife Joyce all showed up not too long after, and I wasn't surprised to see the duckies walk off, but instead of leaving, they walked over to where everybody was gathered and begged for Joyce's granola bar! How funny!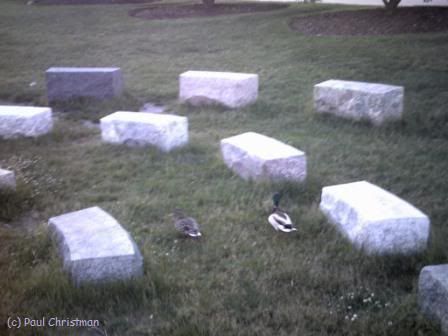 Ducks on the move.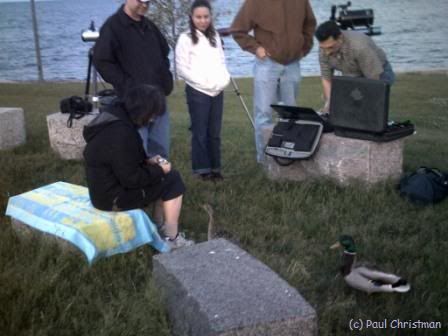 Joyce had a yummy granola bar!
Everybody got a kick out of the hungry ducks.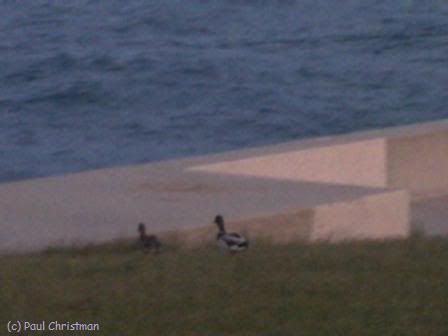 Finally they'd had enough, and walked away.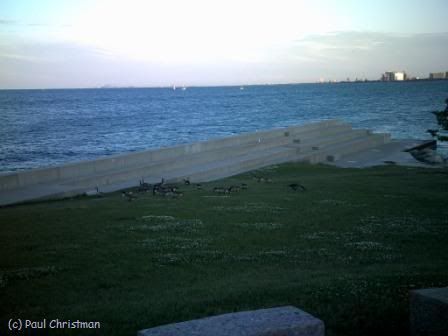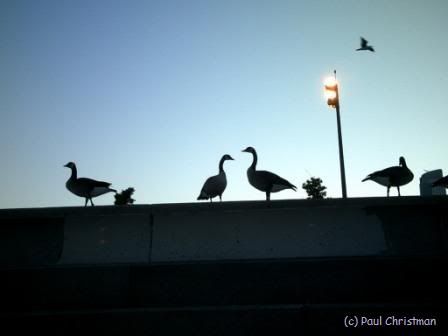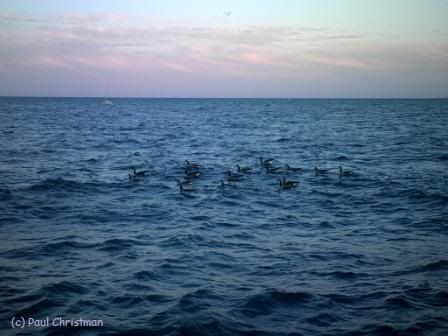 Not only ducks, but plenty of geese nearby.
The ducks helped me lose track of time, but it didn't matter much. There were clouds all along the eastern horizon. That didn't stop Linda, Steve and I from scanning along the horizon looking for the Moon peeking over the lake.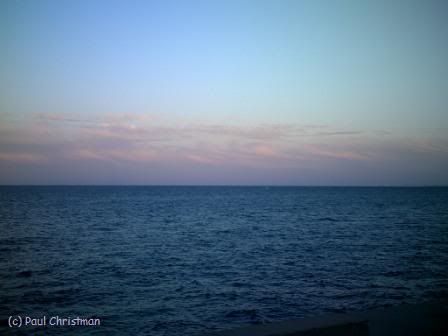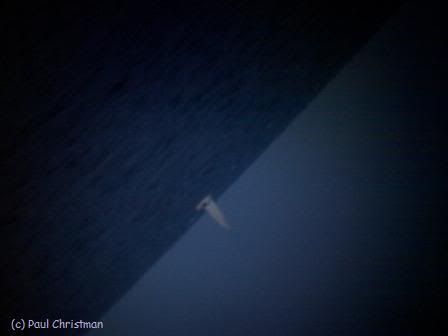 Not the Moon, but a distant sailboat.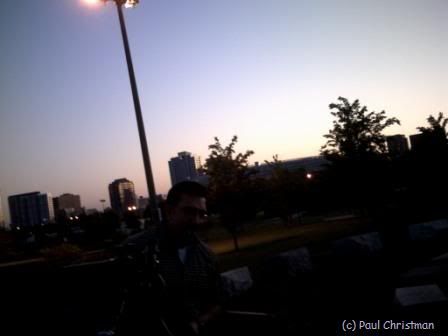 Joe with a cigar.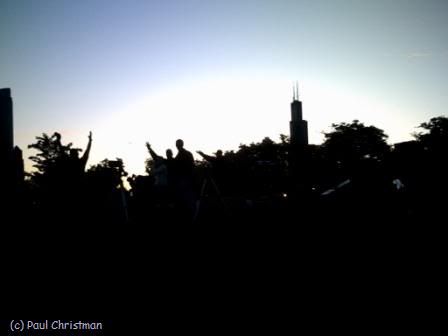 Backlit group shot. Joe got a nice picture of me trying to take this shot.
Finally I saw a pink glow in a cloud and rightly called out that I'd found the Moon. It became more obvious over the next few minutes.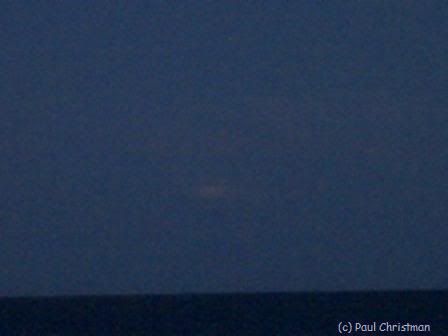 My first look through the telescope.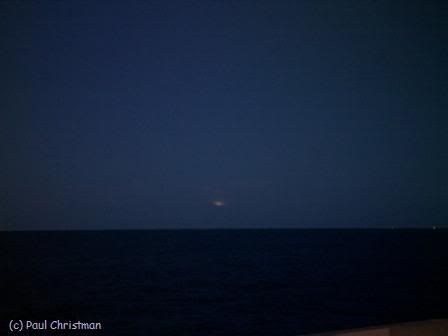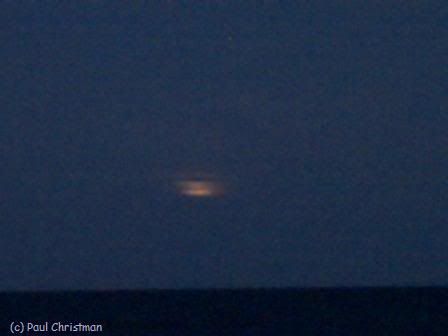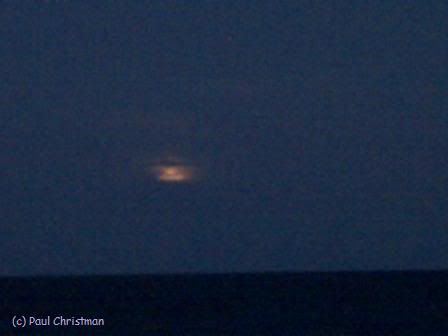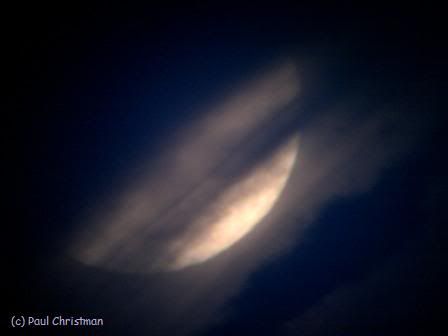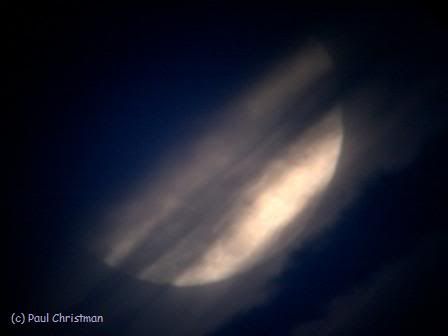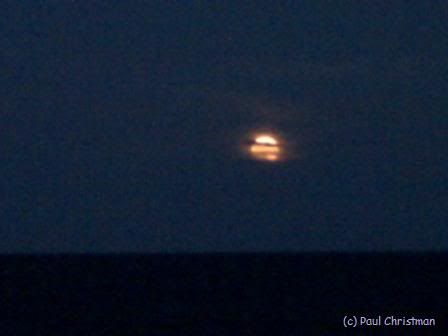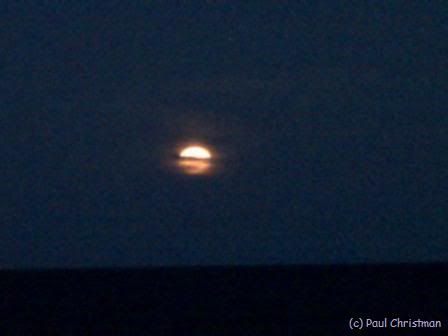 Somebody said the Moon was looking much like Jupiter. I had to agree!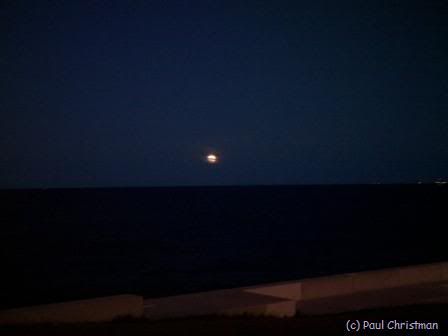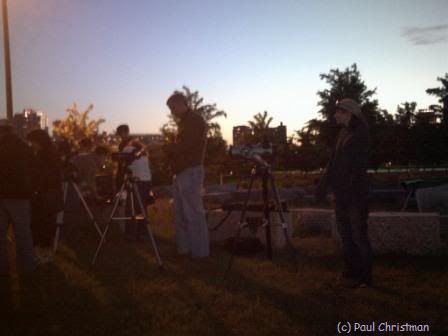 The Moon had most of the attention, but...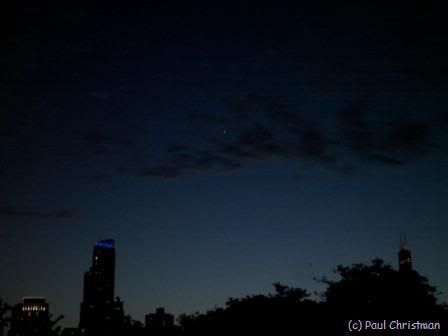 ...Venus was not to be ignored.
Before the entire disk was visible a family came over and asked if I could see all the way to Michigan. I told them Michigan was out of range, but let them have a look through the telescope at what I thought was U.S. Steel in Gary. Eventually they saw the Moon too, but I thought it was funny and cool that they showed so much interest in seeing my home state through the telescope.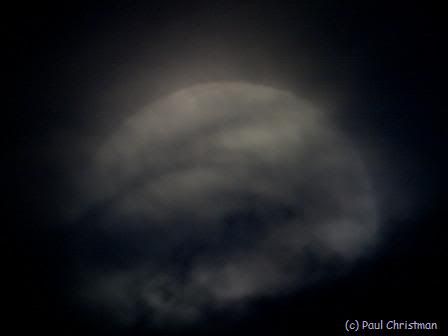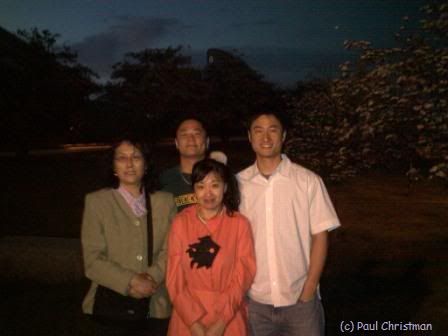 They really wanted to see Indiana & Michigan, but were thrilled when the clouds over the Moon cleared.
I was trying to get some lunar shots when a guy riding a bike came up, curious as to the occasion. Doug stayed awhile, asking all sorts of questions, seeing the Moon, Saturn, and Venus. He even used his cell phone camera to get a better lunar image than mine!
Doug, getting a lunar image through the telescope. His was better than mine below.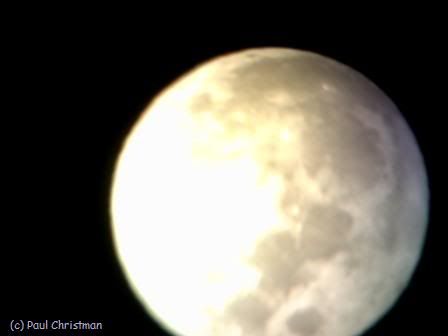 Joe's friend Erin came later with her dogs. One is named Payton. The other I can't say. Obviously I didn't notice the cubbie leash. Yikes!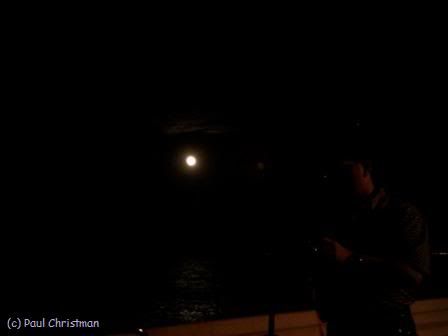 Joe, silhouetted by Moon glow. I love how the Moon beams shimmer across the Lake.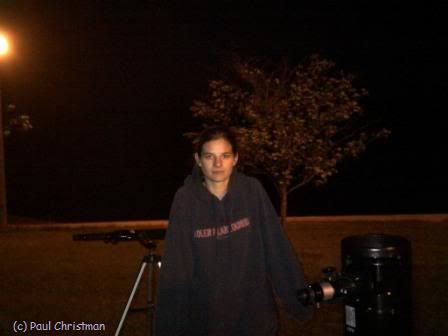 Hillary trying to keep warm.
Me, fascinated by the sight.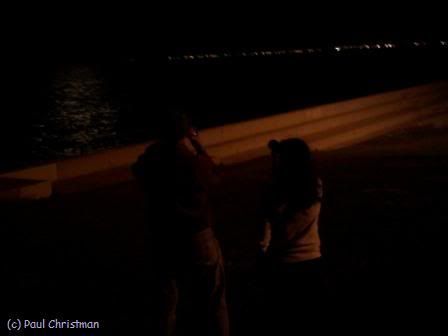 Steve & Linda, scanning with binoculars and Skyscout.
Again those pretty Moonbeams.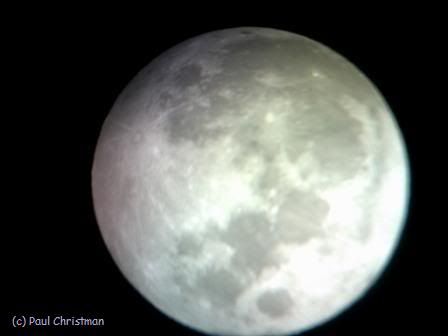 One last close up shot.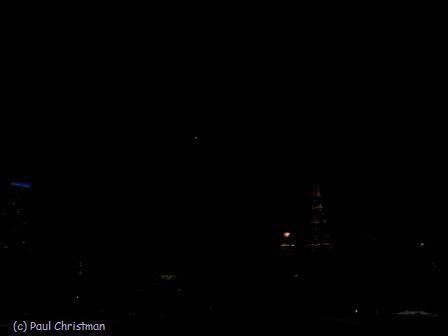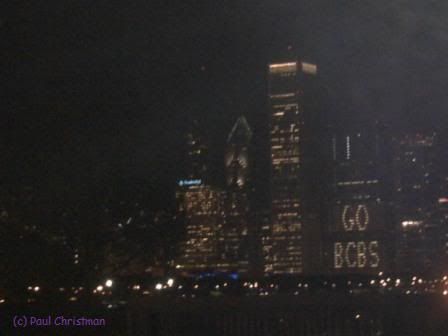 Parting shots of the city skyline.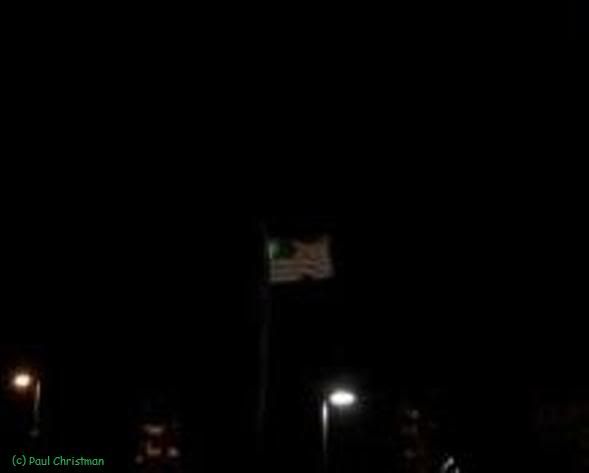 Joe's laser dancing on the flag.
It was time to go home, and I was still excited about the night. It occurred to me later that my first star party at the Adler was last October, coinciding with President Obama hosting a White House star party. I met Joe that night, so I thought it was cool that the president once again had a connection to one of our sessions.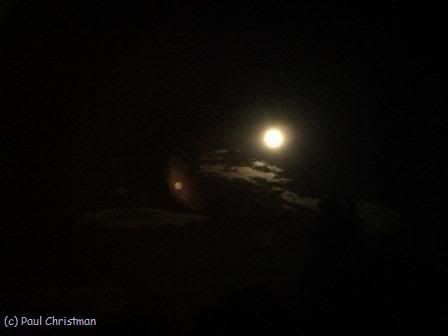 The Moon when I dropped off Hillary.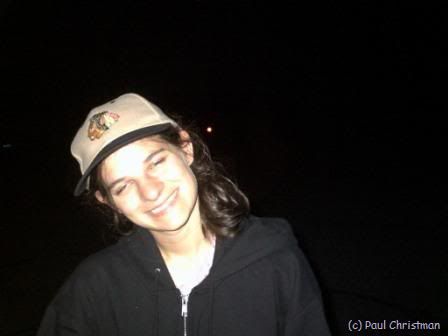 Two tired astronomers.
But... that wasn't the end of my full Moon night. I fell asleep when I got home, but woke up around 4 AM, and decided to finally see Jupiter with just one band visible. I really didn't want to get out of bed, but it was a good thing I did. Wanting to get an image of Jupiter, I discovered that my 10mm eyepiece had probably fallen out of my sweatshirt pocket near the Adler! Great...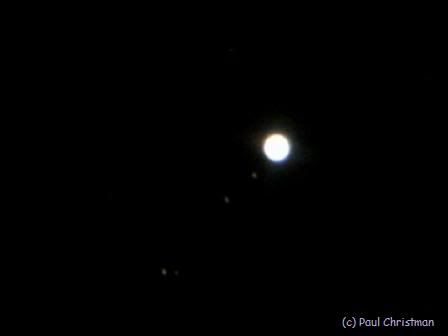 My best image of Jupiter. I think it would have turned out better if I'd had my 10mm eyepiece.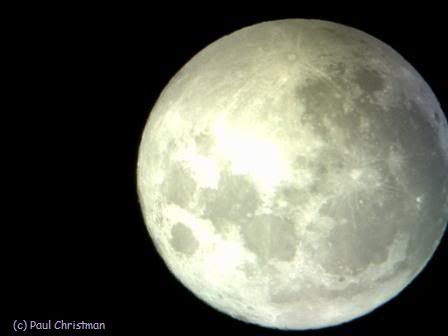 A couple quick lunar images.
There was no doubt I knew I would find it if I drove back to the city. We were the last people out by the Lake, and if I hurried, I would be the first person back out. The light holiday weekend traffic helped, and sure enough, I found my eyepiece. I had put a quarter in the meter, and had only used a minute to find the eyepiece, so I walked around, enjoying the solar illumination coming over Lake Michigan.
One of my last views of the Moon for the night, just before getting on the Indiana Tollroad.
I took a similar shot Thursday evening, and the difference in lighting is striking.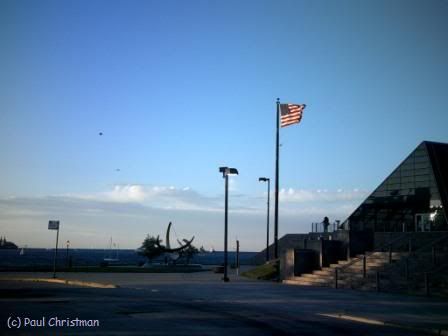 Thursday's scene.
Now it's Sunbeams dancing on the Lake.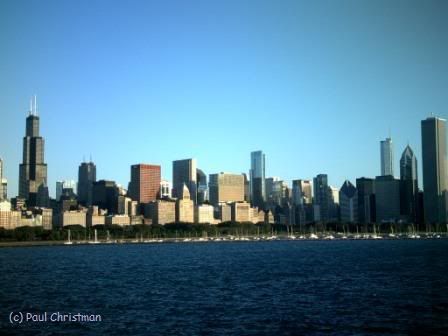 Ah, what a sight.
I couldn't appreciate the morning very long though. I wanted to beat the traffic before the craziness of holiday travel set in, and I desperately needed sleep.
Friday night's post-full Moon session was pretty much out of the question, but that was okay. I'd had quite an experience already!
Check out Joe's account and reader comments below.
http://astronomer.proboards.com/index.cgi?action=display&board=StarParty&thread=2727&page=1