For the second straight night, I was out at the corner of Lincolnway & Washington in Valparaiso for some sidewalk astronomy Thursday, and it went better than Wednesday, at least a little bit. As soon as I walked out the door to leave, I looked west and saw a refraction Sundog. Nice. It's like I can't go a week without seeing one lately.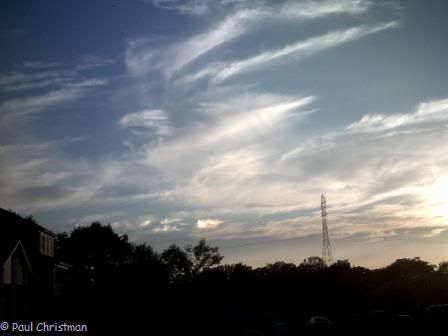 I wish my Sundog pictures would turn out better. They're so cool to see.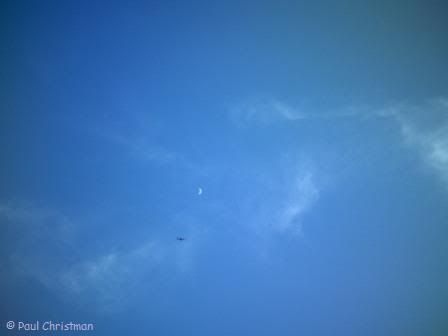 I caught an airplane passing near the Moon before I left.
I hadn't left home as early as Wednesday night, so I didn't have time to walk down to Blackbird Café to hang out for a bit with an iced coffee. There were some scattered clouds about, but they mostly cleared as night took over. Plus the Moon was farther east, and wouldn't descend behind the bank building as early.
I like how the Moon looks in daylight.
The clouds to the west seemed to be clearing.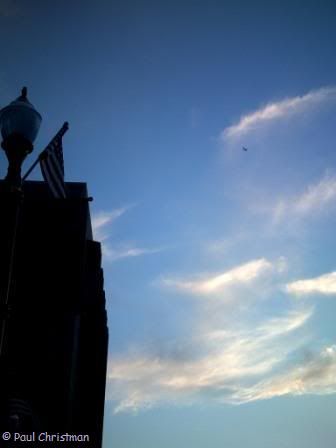 I caught another airplane. If I was home, this one would have passed into sight in a few minutes.
As usual when I'm set up early, I had some time to kill, and noticed a big bumble bee flying around the planter next to me. I'm deathly terrified of anything that can fly and sting, but I was fascinated, and thought I'd try to get a few pictures. The bumble bee had orange marks on each side, something I've never noticed before. Is that normal?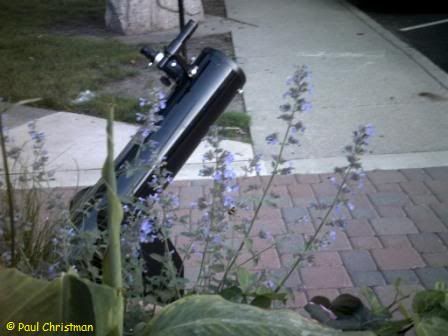 I love this picture. It shows what can happen just by snapping away. I was only paying attention to the bee, not the background, and it happened to be the one to turn out best.
Same picture, cropped in on the bumble bee. Notice the orange?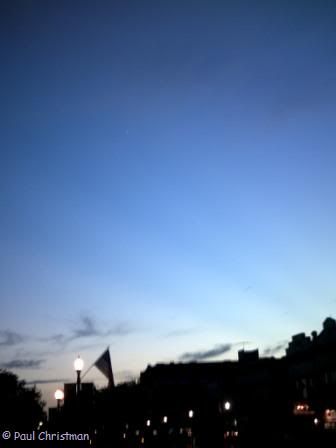 Still clearing.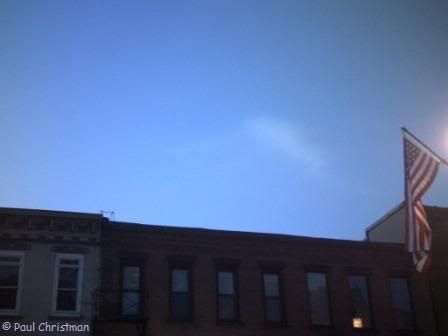 Ghostly cloud.
After goofing off for a little bit, it was time to hang around the telescope. Again, there were quite a few people passing by, mostly adults, unlike Wednesday's experience (there were way too many unsupervised young teenagers and preteens running around, and parents taking their young children to the movie in the park).
If nobody was going to stop and take a look, I was at least going to take advantage of the lull and try to view some areas of the lunar surface that I haven't paid much attention to. I was really caught by the crater Posidonius, and especially it's western wall. I was also studying the region around Posidonius. Several rifts or ridges seemed to wind through the Sea of Serenity. I've noticed them before, but not paid close attention to them. In fact, I'm not even sure what causes them. I'll have to look that up soon.
The Moon over the Porter County government complex.
The lunar southern highlands, a region I don't know well.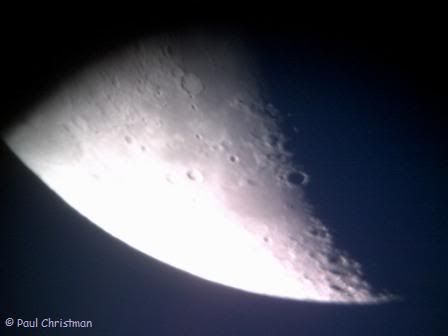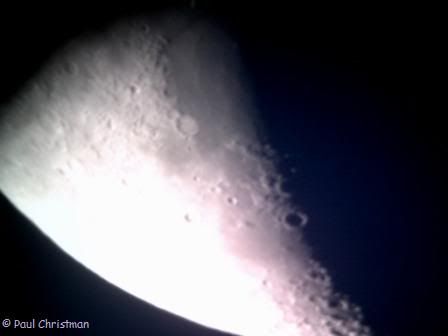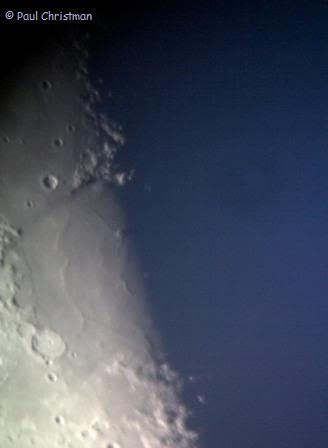 The region of Crater Posidoius and Sea of Serenity.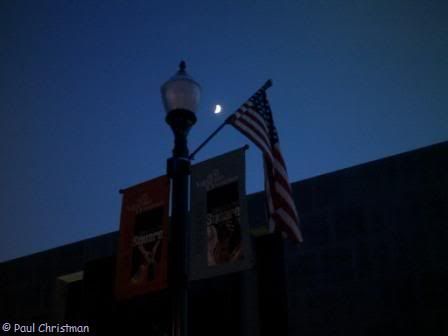 Saturn appeared soon, and started to get some of my attention, and was viewing it when two girls came up and wanted to see. Sara asked what I was looking at, and said that she had been a member of the Adler Planetarium before. Perfect, I thought! I told Sara she should take a look for herself and tell me what I was looking at. It took her a second to find it in the slight glare, I think, but then she yelled out, "Oh my god, you're looking at Saturn!" I always love it when I don't have to explain exactly what I'm showing.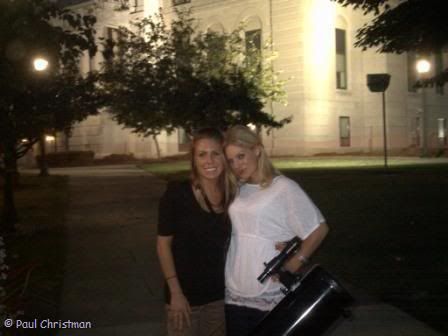 Sara and her friend stayed a few minutes, posing for a picture (a couple had declined to have their picture taken earlier), seeing the Moon, and hanging around talking. They stopped at the perfect time, because Mars and Regulus became visible while we were talking, so I pointed out Venus, Regulus, Mars, which complemented Saturn and the Moon well. Having the girls around was generating interest, and after they left I was busy with visitors for the next ten or fifteen minutes.
Just as I thought it would turn into a busy night the stream of people died, and stayed dead. At least for me. People would pass by every now and then, but after that rush nobody stopped. I wouldn't have minded so much, but I lost the Moon behind the bank again, so I was left with viewing Saturn. Finally I got bored, packed my stuff and left.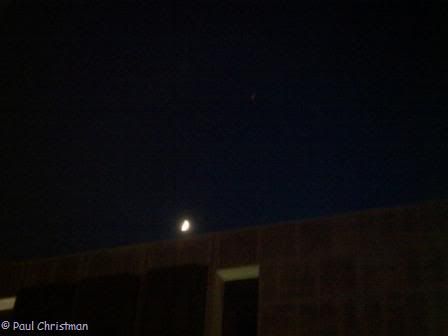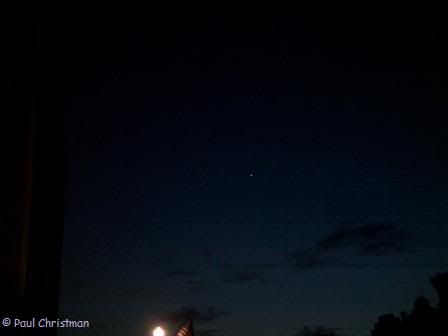 Hopefully in the next week I can take my the optical tube assembly apart on my go-to, fix the collimation problem, and maybe even get it back out on a sidewalk with the Dob. For now I'm thinking about trying other locations, because as much as I love hanging out in downtown Valpo, Valpo residents just don't show much love for the night sky.