Last Thursday I went to Valparaiso University for a lecture by Dr. Michael J. Crowe of the University of Notre Dame called, "The Extraterrestrial Life Debate: A Historical Perspective."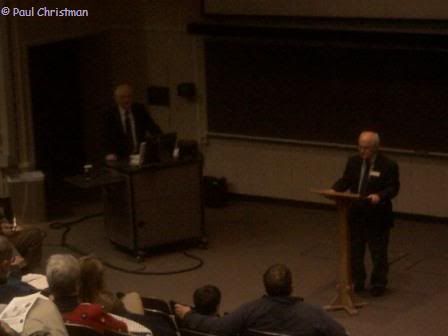 Dr. Michael J. Crowe of the University of Notre Dame (left).
Dr. Crowe chronicled 17 key developments in the debate about extraterrestrial life in western philosophy. I did not take notes (which I am regretting as I write), but it follows his book The Extraterrestrial Life Debate, 1750-1900. Astronomers and philosophers including Bruno, Kant, Huygens, William Herschel, Percival Lowell have all argued in favor of the plurality of worlds and/or life in the universe. However, I was surprised to find out that Peter the Great of Russia wanted Huygens's writings translated into Russian, including the possibility of alien life. At the time, there were no books translated into Russian regarding the Copernican system. Dr. Crowe explained that the printer was so shocked by the content that he tried to destroy the copies because he thought they were Satanic!
Dr. Crowe's research debunks the common modern notion that the debate over extraterrestrial life began in recent decades, and has gone back to Leucippus, Democritus, and Epicuris in ancient Greek times. While astrobiologists and astrophysicists are making great strides toward finding extraterrestrial life, the debate is sure to go on for decades, and perhaps centuries to come.
Dr. Crowe's lecture can be found in PDF form here:
www.michaelsheiser.com/UFOReligions/Crowe.pdf