I woke up early on November 2, and went outside for some quality observing time alone. As soon as I stepped out the back door I was treated to an amazing sight. Auriga was near the zenith, Orion was transiting to the south, and their neighboring constellations were placed accordingly. It's the richest star field in the sky, featuring a great collection of first magnitude stars, topped off with Sirius, the brightest star we see. With the Milky Way running through these constellations, it was the perfect sight to be greeted for the new day and the new year. A look to my left showed the waning crescent Moon about an hour above the horizon. I had already missed Jupiter, so it was the Moon and everything else, somewhat at my leisure.
I brought out my Dobsonian for some lunar viewing of course, but after a warm up break (it was a colder morning than any since April), I brought out my new 16x50 binoculars for their first real observing session. I like the views, but I'm already thinking about a tripod for them. Even the small increase from 10x to 16x shows increased vibration. I had a decent list of targets, most observed with the binos and scope. Mostly easy targets here, because I was preoccupied with the dazzling stars above me, and of course the Moon.
Observing Highlights
M45, Pleiades- binoculars
M42, Orion Nebula- naked eye, binoculars, and telescope
M36, 37, 38- binoculars and telescope
M35- Binoculars, telescope
M1, Crab Nebula- telescope
M44, Beehive Cluster- naked eye(!), binoculars, telescope
M41- telescope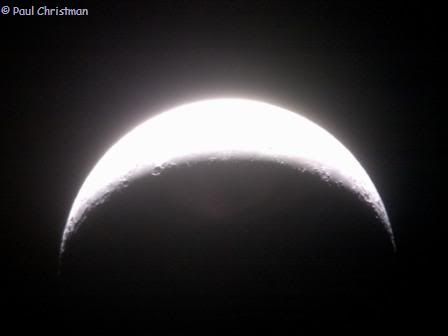 Good old Luna. I don't know how some astronomers (or anybody else) could find the Moon boring. I had already been observing with the Dob, especially watching sunset on crater Gassendi, but I targeted it with my binoculars anyway. I thought I saw a star near the northeastern limb, so I went back to the telescope to confirm. Sure enough, there was a star there. There were no occultations for that morning according to Curt Renz's recent list for Chicagoland observers, but this was a nice, unexpected conjunction. I don't know what time I first observed it, sometime just before 5 AM. By 6:10 it had moved almost directly over the lunar north pole (or should I say the Moon moved almost directly under the star?). In any case, the motion was obvious, and fast. When I last looked at 6:47, Luna was pulling away from the star. Later I wanted to know which star I had seen, so I checked Redshift, and found it was 69 Leonis.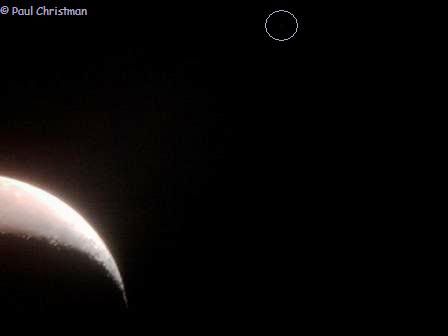 Sometime before 5 AM, CDST.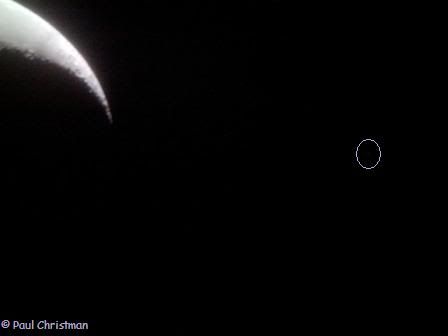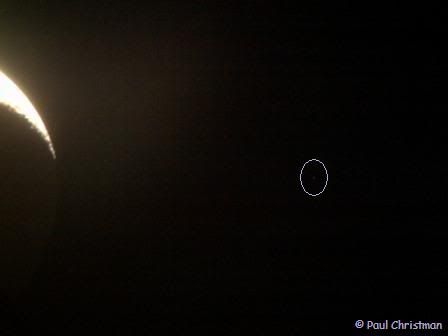 Taken back-to-back sometime around 6 AM.
Crater Gassendi is one of my favorite features on the Moon, but it's position in the eastern hemisphere makes it difficult to observe lunar sunset.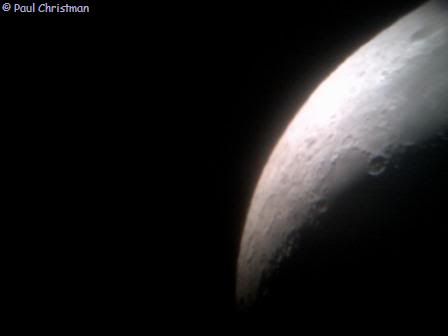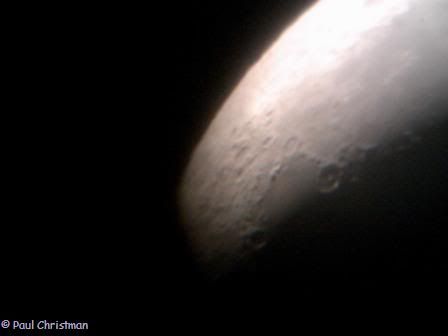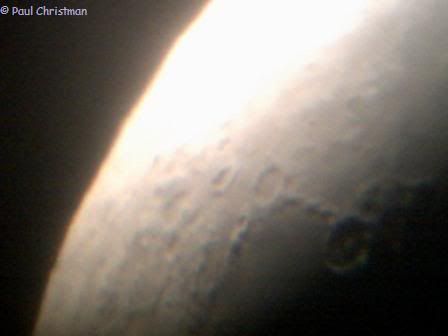 My first set of images. The western rim of Gassendi is mostly illuminated, as are the central mountain peaks, and the western half of the floor.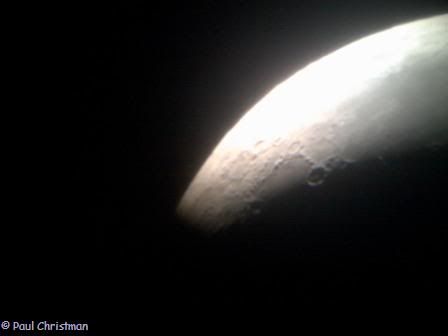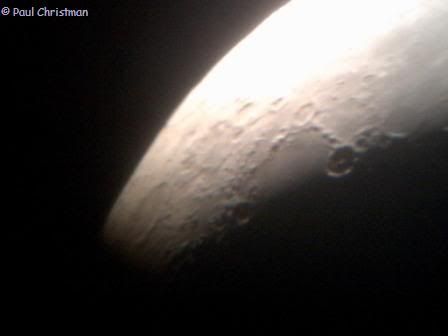 Starting to see breaks on the western rim.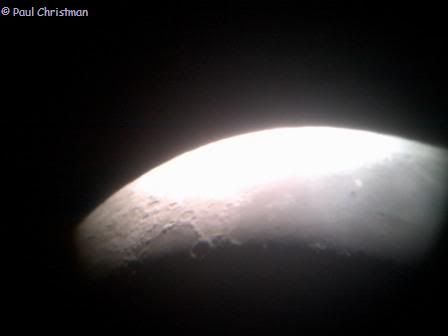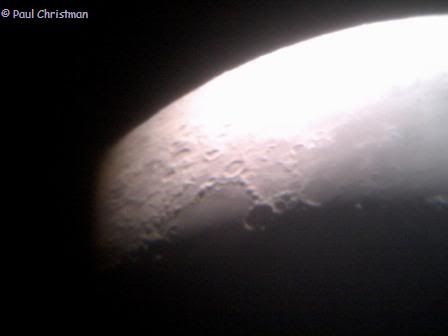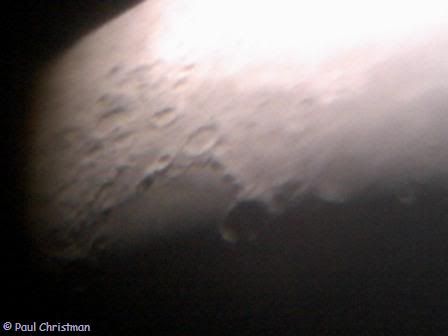 The western rim is disappearing, and shadow covers most of the floor.
Saturn was one of my prime targets for the session, but I had to wait for it to rise. I expected it to clear the distant treetops around 5:10, and when I came back from a warm-up break at 5:18, it was right where I expected. Being so low on the horizon makes good observation a challenge, but pushing the limits of my Dob with a 4mm eyepiece, moments of good seeing showed the rings are indeed starting to open. Very slightly, but more open than I've seen since my first month as a telescopic astronomer.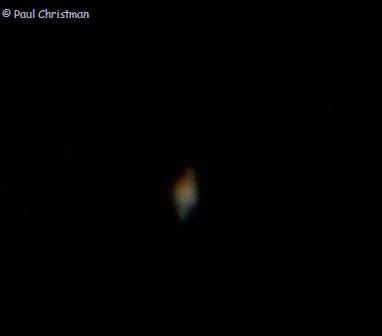 Terrible image, but definitely Saturn.
Saturn wasn't the only planet I was waiting to see, though. Venus was going to be a challenge, still very near the Sun, but I was willing to try for it. I scanned the eastern horizon area, hoping to spot a glimmer, but the only things I saw were early morning flights headed to Chicago. One of these planes had an eerie pink contrail, probably from the angle of sunlight. I found it in the eyepiece of the Dob, and it sort of looked like videos of space shuttle launches, just before the solid rocket boosters are jettisoned. I took a few pictures, then a long video, tracking the plane in the scope for over 6 minutes.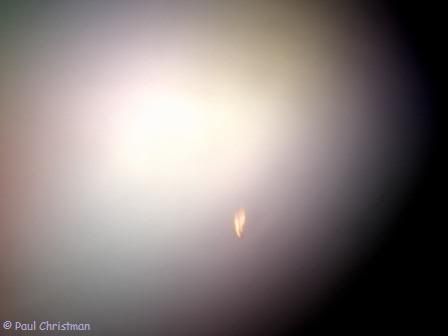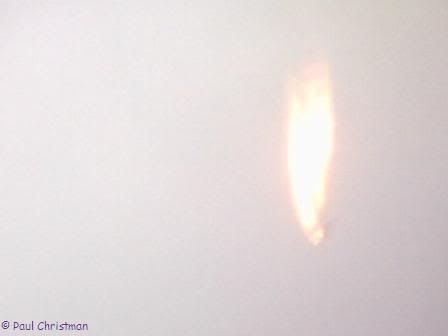 By the time I was done watching the plane fly by, I my fingers and toes were freezing. It was time to go in, but there was one more treat for me: a Belt of Venus.
Belt of Venus.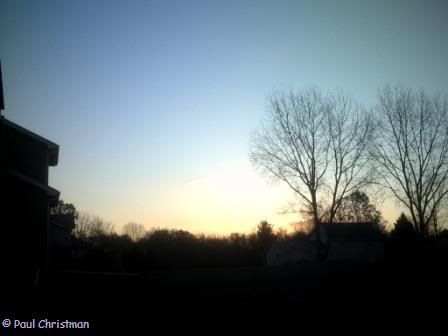 Just before sunrise. My astronomy was over.