I had been waiting for last Tuesday for nearly eight years. On June 8, 2004, I saw the Sun rise over Lake Michigan with Venus near transit egress from Chicago's Adler Planetarium. Seeing that little dot in front of the Sun through nothing but a pair of cheap eclipse glasses changed my life. I knew I had to see the second of the pair eight years later. The desire to see the 2012 Transit of Venus is the sole reason I now call myself an astronomer. I had spent months, and really years, getting ready for this last of my lifetime event. Was I as ready as I would have liked to be? No, but I had all the tools I needed to observe the transit myself, try to get some (bad) images, and show the curious public something we'll never see again.
I left home to pick up Hillary mid-morning, and we arrived at Conway Observatory in Lowell around 10 AM CDST. We were the first to arrive, but I had a feeling that there would be many more Calumet Astronomical Society members arriving before our public viewing started at 3 PM. We packed a lunch, and hung around the observatory all day, working on last minute preparations. Months ago, I had decided the best place on the grounds to observe the transit, and was determined to be set up there before anybody else. Until the early afternoon, I even had a sunshade canopy marking my territory, but the wind finally blew it over. Out in the middle of farmland, Conway has a tendency to have high winds during the day, but calm nights. Losing our canopy to the wind wasn't completely unexpected. With mild temperatures and the steady breeze/wind, it wasn't really necessary, so I put it away after it fell down. There were clouds scattered across the entire sky until around 11 AM. I wasn't worried that they would ruin the show, but they blew out well in advance. There was a line of clouds to the east all day, but they were no threat to us, and I ignored them. To the south and west was nothing but blue sky.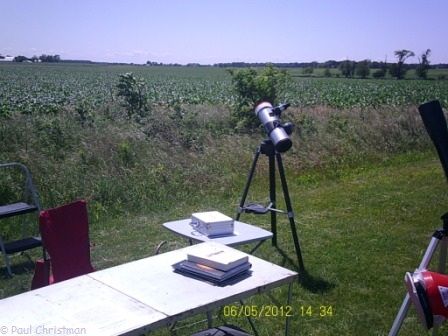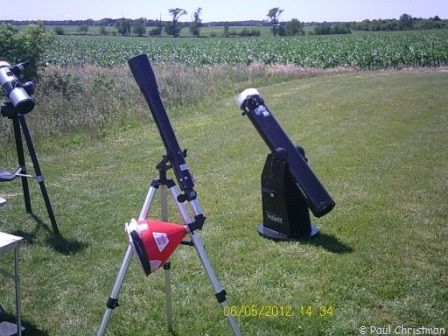 We were set up out on the edge of the grounds, where I hoped the very best view would be.
The clouds stayed harmlessly to the east all day.
Chris, the president of the society, arrived around noon. I mopped the dirty floors (couldn't hide them in the dark this time), made an offset Baader film solar filter for the 16" telescope, and charged batteries so I would have plenty of power for the day. I'd been saying for months that I wanted no surprises on transit day (except maybe seeing the Venusian atmosphere). Chris was in and out of the observatory until around 4:30 PM trying to get the Hunter Astrophoto Lab ready to run a live view of the transit on a flat screen TV. We even had plans for webcasting our event, but the internet connection was down. Chris and Dr. Shawn Slavin from Purdue Calumet tried all day to get the internet back up, but were unsuccessful. It was probably for the best. With working internet, I might have been wrapped up watching live webcasts from around the world and seeing images posted to the web instead of taking in the moment firsthand.
I'm getting excited!
Time to check out the Sun pre-transit.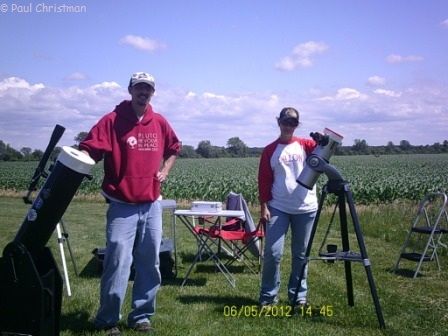 As CAS members arrived and set up their equipment, I tried to go around and get pictures with them. This was a big day, and I was going to enjoy it to the fullest, and try to chat with all my fellow astronomers before things got busy. I also spent time observing the Sun through members's telescopes, and the observatory telescopes.
Larry and Mike.
Jim sells eclipse glasses.
The 6" refractor in the Hunter Astrophoto Lab gave the most amazing view of the Sun in white light that I've ever seen.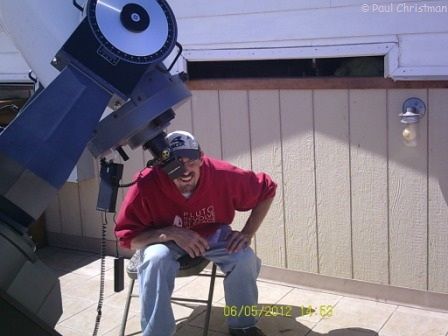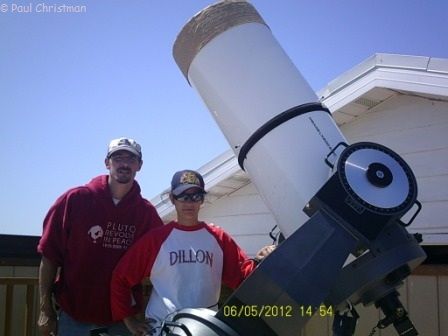 To my knowledge, this was the first time the 16" telescope had seen the Sun.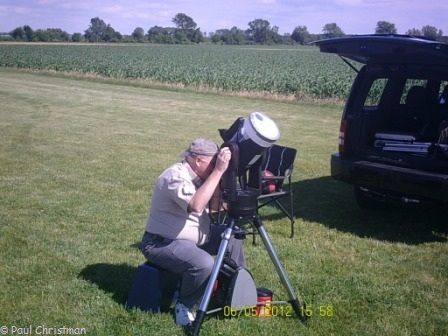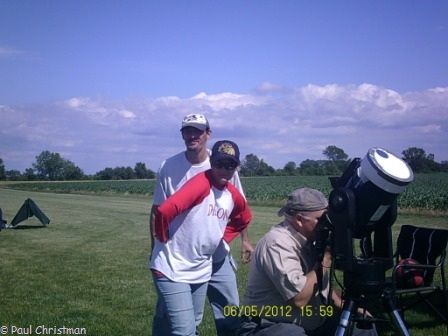 Jeff is busy aligning on the Sun.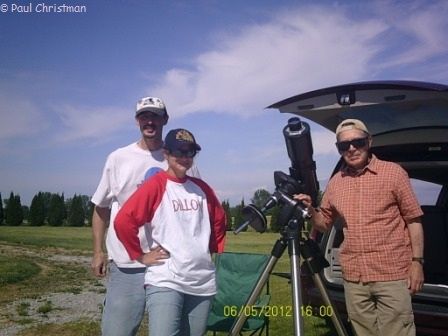 Saying hi to Jim.
Jim R. tries to hide behind his LX90...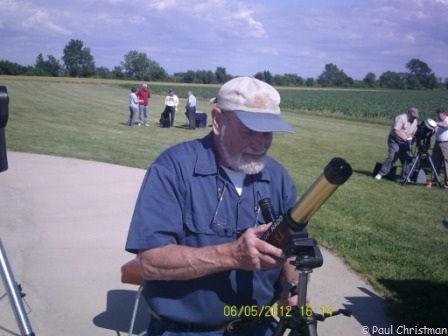 ...but can't hide behind his PST.
Larry and some early visitors.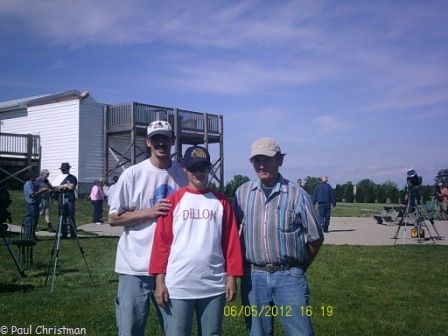 We catch Steve as soon as he got there.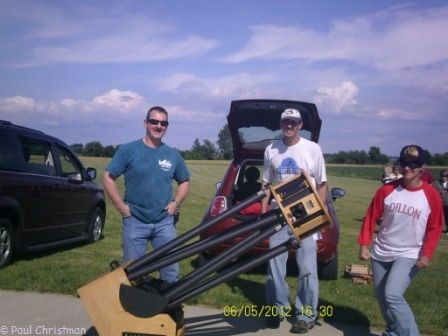 Hillary was a little too slow in this pic...
...but joins Don, Steve, and me here.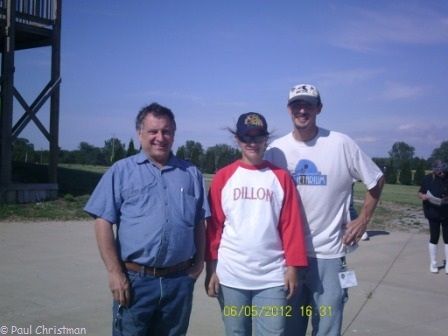 Tom has a free moment.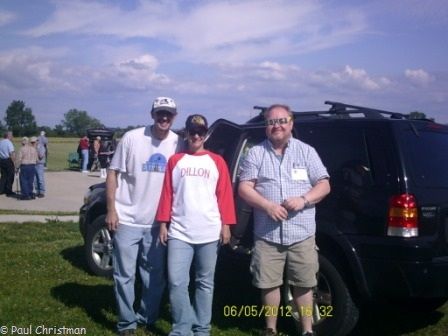 Dave helped handle the crowd.
Chris was probably the busiest man of the day, but he stops for a quick shot.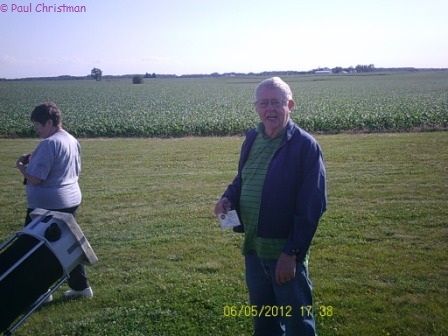 I was glad to see Chuck out for the transit.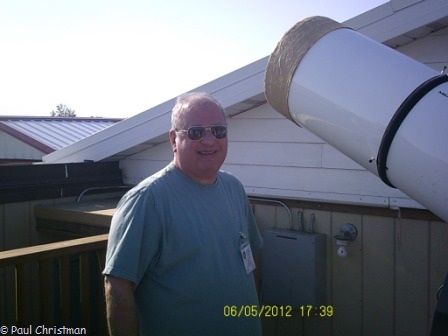 Gus handled the 16" telescope.
Mike with his home made Dob, and last minute solar filter.
I didn't see Craig until after the transit.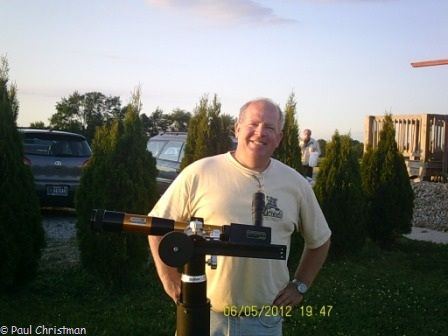 I had planned to have the ingress portion of the transit to myself, family, and friends. Historically, the ingress and egress were the important parts, and had rare phenomena to be observed. Ingress would take about 18 minutes to complete, leaving almost three hours before sunset with Venus fully in front of the solar disk. I didn't think it was selfish to want the geeky moments to myself, as much as possible.
First contact was due at 5:04:18 PM CDST. With 3 minutes 30 seconds on my desktop countdown timer, I saw my friend Katie walking up. She was followed by my parents, sister and brother-in-law, and my friend Jayde and her family. I was expecting them, but not all at the same time, so close to first contact. Good: they would all get to see the cool stuff, too. The next few minutes are a blur in my memory, but when my alarm on my phone went off at 5:04, I was trying to get my little group up to speed on what to look for, and sneaking peeks in the eyepieces of both my telescopes, making sure they were aligned on the Sun.
It wasn't until about 5:06 that I saw a small indentation on the solar limb, and I called out to my group that we had contact. Not long after, Jim R. also called out contact, much louder, alerting everybody that the transit had started. Soon I had random people walking up trying to look through my telescopes. I didn't mind when I was busy with other things, but I remember butting a couple of people out of the way when I needed to observe. I was afraid that I might have been rude about it, but I've been told later that I wasn't rude, just excited.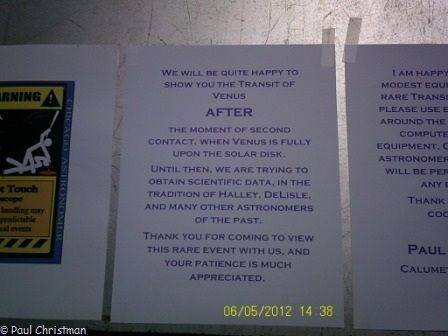 Lot of good this did me...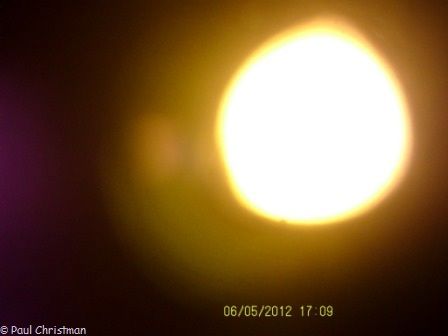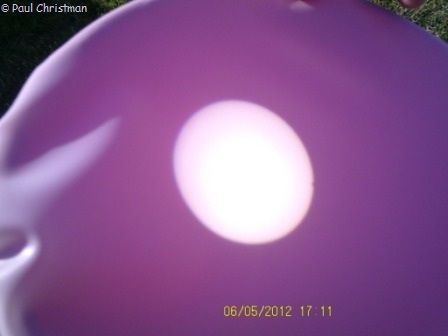 Just a small indentation on the solar disk.
When Venus was more than halfway through ingress, I looked for the areola "ring" effect of the Venusian atmosphere, but to no avail. I saw the black drop for quite some time. I heard Jim R. call "surrounded by Sun," yet I saw the two disks connected for almost a minute beyond that. No wonder contact is so hard to accurately time.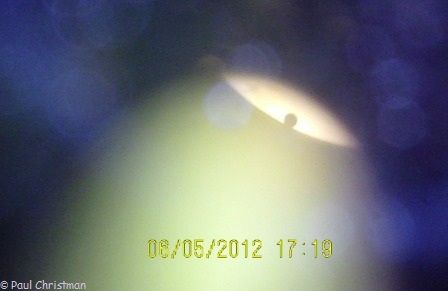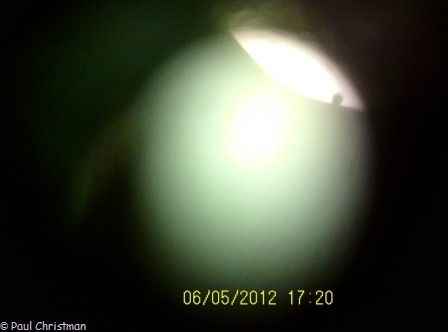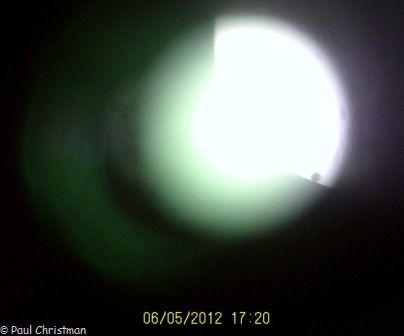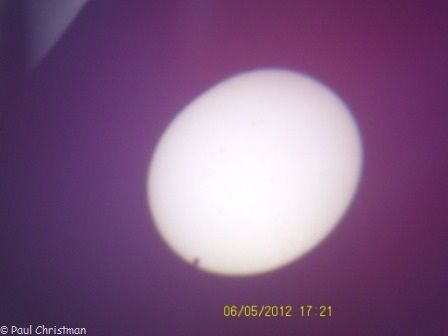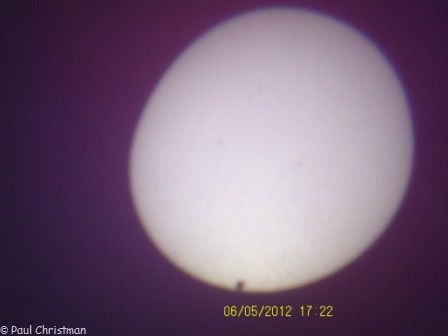 Looking for second contact.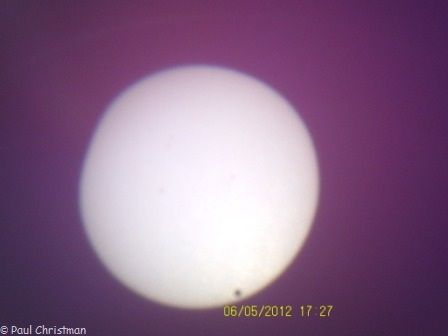 Venus fully surrounded by the Sun.
Once Venus was fully upon the solar disk things calmed down for awhile. The crowd was rather thin still, so I took off for a few minutes to check out the view from the big scopes. After popping into the Hunter Astrophoto Lab for a few seconds, I went up to the 16" telescope deck, and found my family. We posed for some pictures before I went back down to my telescopes.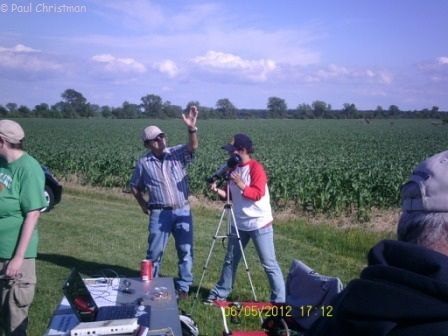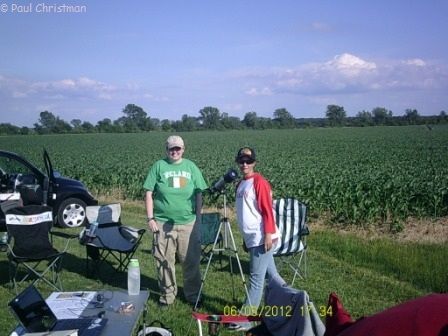 Katie and Hillary.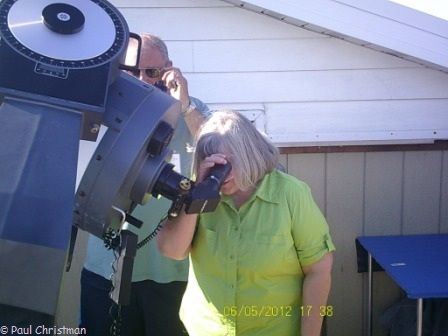 My mom and dad each check out the transit through the 16" telescope.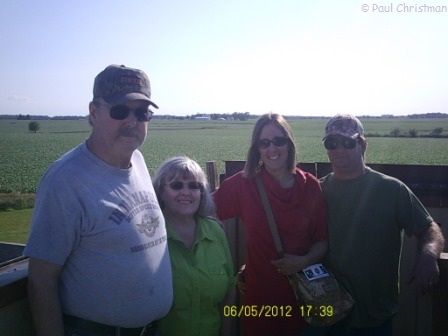 L-R: my dad, my mom, my sister Dawn, and my brother-in-law Cecil.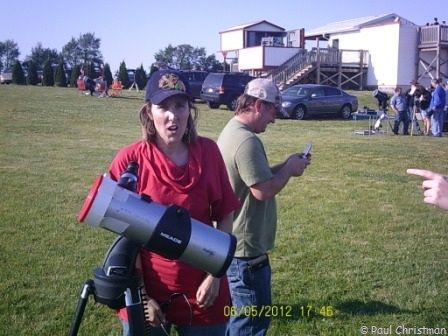 Dawn told me later, "I didn't find it as exciting as you did, but I thought it was pretty cool."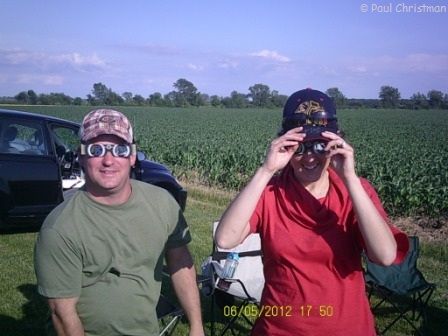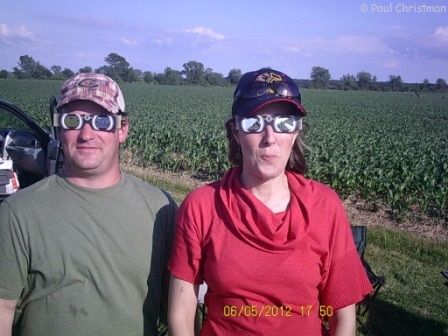 Dawn and Cecil find the reflection of their eyeballs in the eclipse glasses unsettling. (I did, too).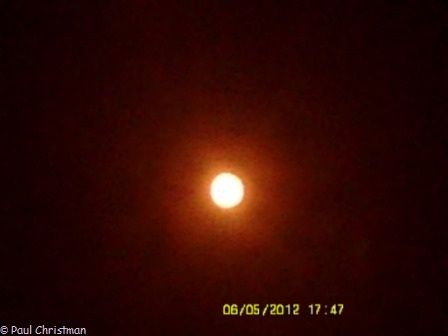 I tried to image the transit through eclipse glasses, but failed.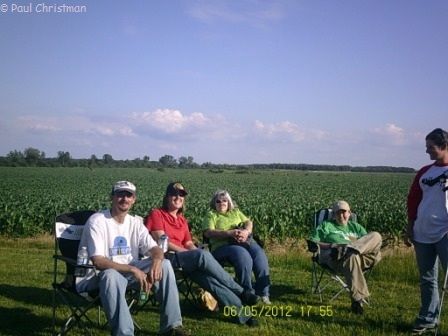 This picture is such a lie. I was sitting down for about one second waiting for the timer, and was right back up.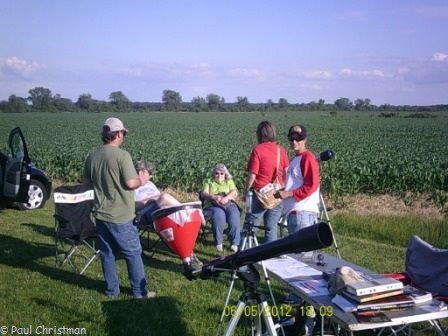 My friend Jayde brought her husband Todd, and their son Trevor to see the transit. Jayde is a space enthusiast, and works teaching kids the value of a STEM education. All I can say is that in my opinion, she has the coolest job on this planet. She also makes homemade jewelry, and was wearing a special Transit of Venus necklace. I was glad to see her out there and meet her family.Todd got some better pictures of the transit than I did while going around to different telescopes.
Jayde getting a look at the transit through the 16" telescope.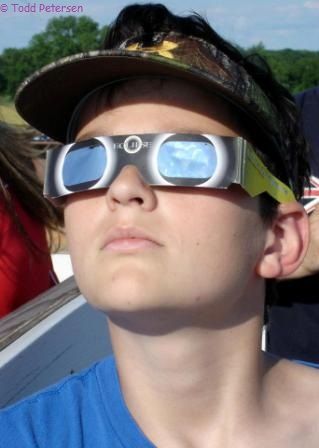 Todd, then Trevor looking through eclipse glasses.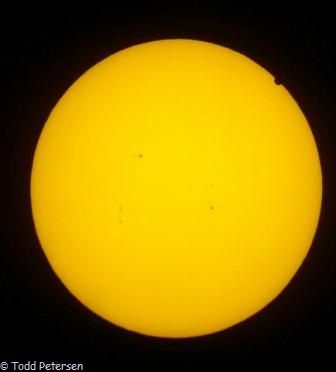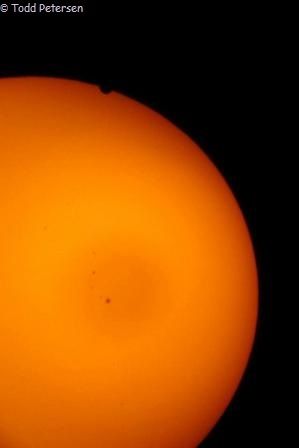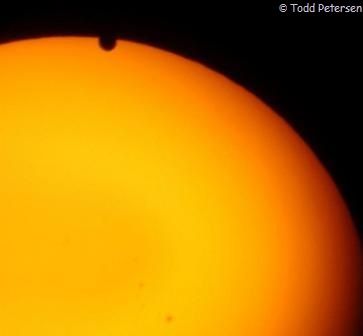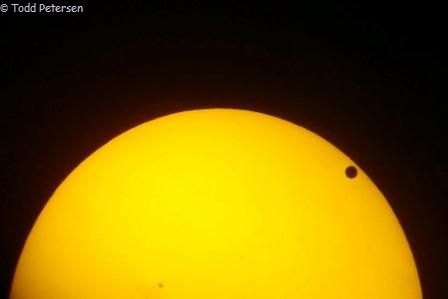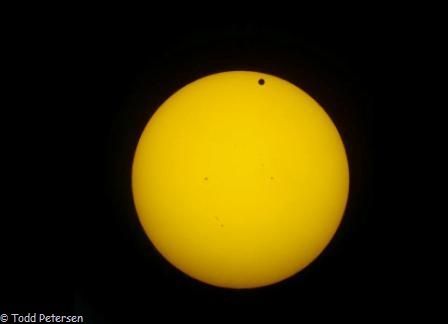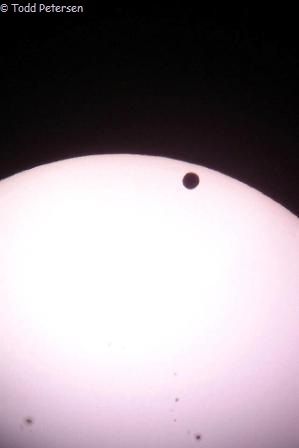 Todd's images are better than mine!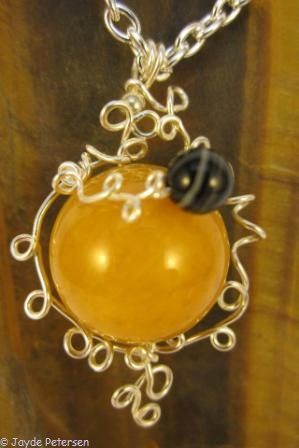 Jayde and her specially made Transit of Venus necklace.
I saw a couple from Florida had come to see the transit. They were in town for their grandson's graduation. Jerome had a telescope at home, but it wouldn't help him see the transit here. They stopped by the observatory in the morning, not long after Hillary and I arrived. I took them on a tour of the place, and invited them to come back once the transit started. I was glad to see them back, and got a picture together.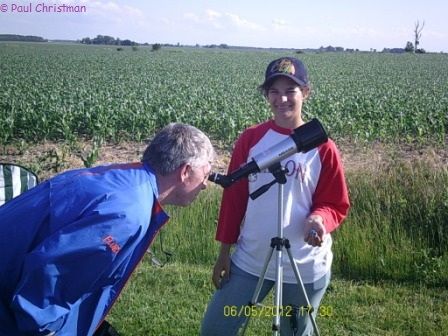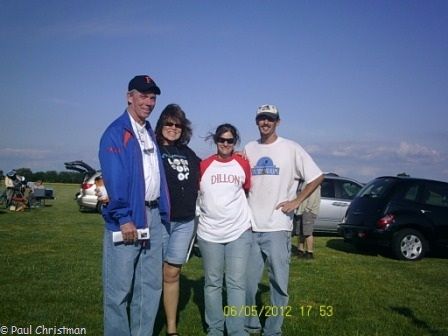 They were in town for a graduation, but still wanted to see the transit.
Exactly 24 hours before the transit began, I was at Valpo's Central Park Plaza for a final mock transit session. Within an hour I was bored, and thinking three hours of showing Venus in transit was going to drag. Of course it didn't, and although my excitement peaked around the black drop, it didn't fall far from that peak for days. I watched the progress of Venus across the Sun, handled the crowd more easily, and tried to enjoy the moment as much as possible. I thought Conway Observatory was the best place in all of Northwest Indiana to see the transit, but the crowd was never as big as I expected it to be. I'd guess that we had around 250 visitors scattered throughout the three plus hours of visible transit. Not once, though, did I hear anyone say, "Oh, it's just a dot."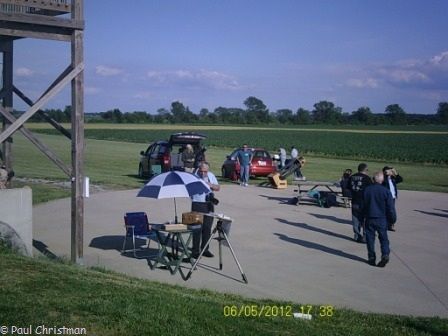 A little bit of a lull. We were never overwhelmed, but had a steady crowd coming and going throughout the transit.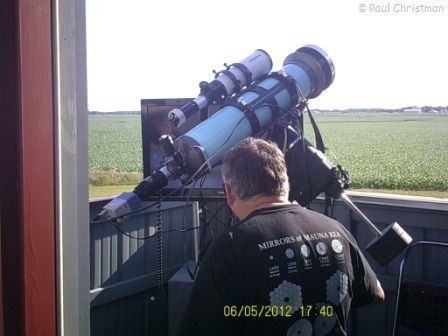 Chris did a good job setting up a live feed in the Hunter building.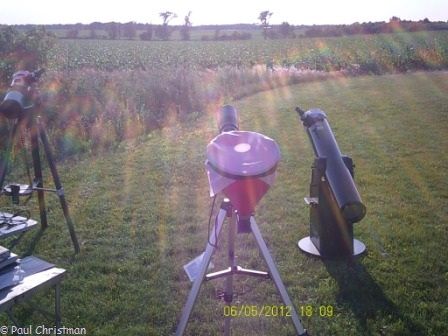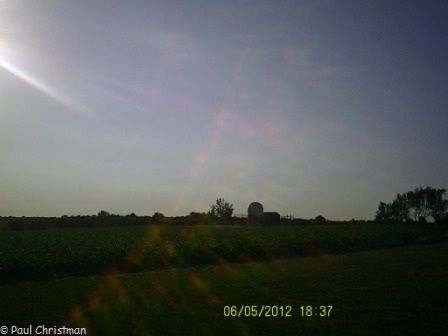 Strange but cool optical effects.
I noticed that even though I was set up farthest from the building- partly for the lowest horizon possible, partly to have as much time as possible to myself with the transit- that people coming in seemed to make a beeline straight for me. I mentioned it to Dave at one point, and he said that he was directing everybody he saw to me first. Dave liked my Sun Funnel on my 60mm refractor, and thought it was best to have me show the visitors exactly what to look for before sending them around to the other telescopes. The Sun Funnel was a very recent addition to my transit observing tools, tested for the first time only the day before. It needs to be improved for regular solar observing, but it did its job for the transit well, and was the biggest hit of the day.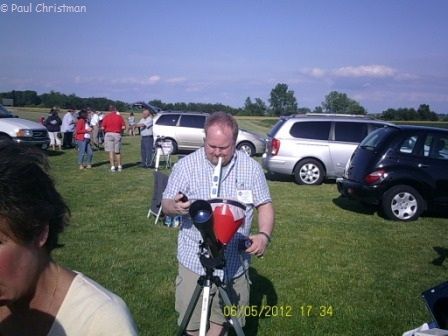 Dave checking out the view on my Sun Funnel.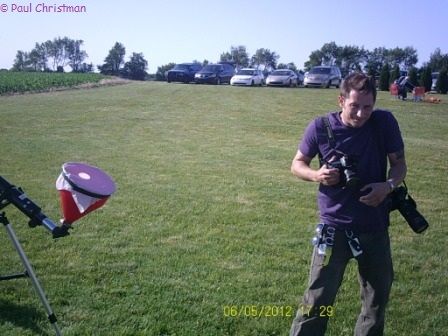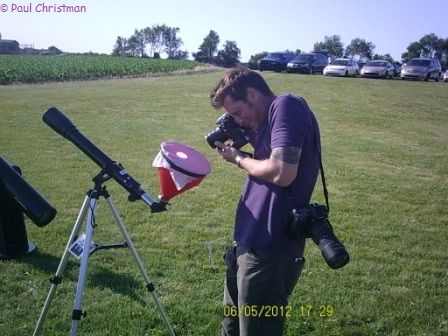 A print media photographer. He wasn't used to the idea of being
in
the picture.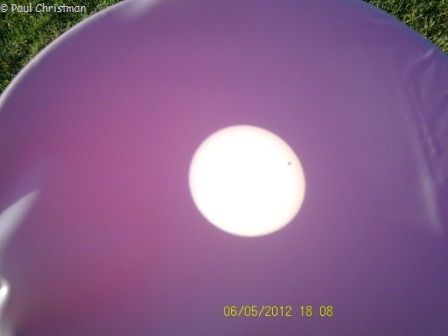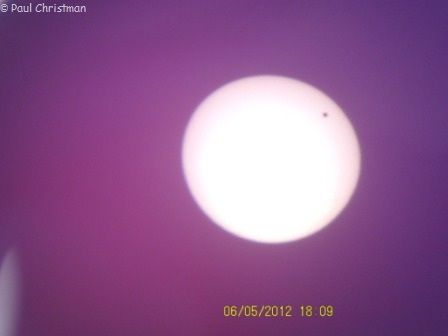 All good things must come to an end, but I was surprised to see the crowd really thin out after 7 PM. Even some of the members were packing up to leave. Unthinkable to me, but to each their own, I guess. Soon, though, the Sun got low, and the shadows got long. My family had left (after bringing back a pizza!), and Hillary, Katie, and I had some time to hang out together. I still had people to attend to, but it was calm and relaxed compared to the excitement and tension surrounding ingress.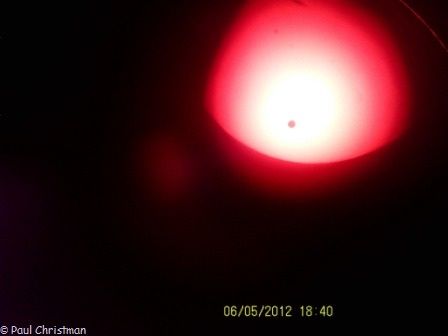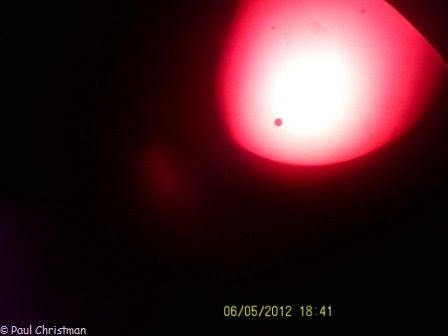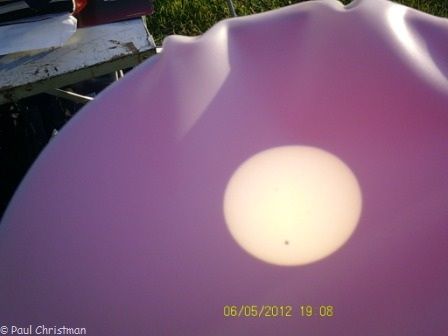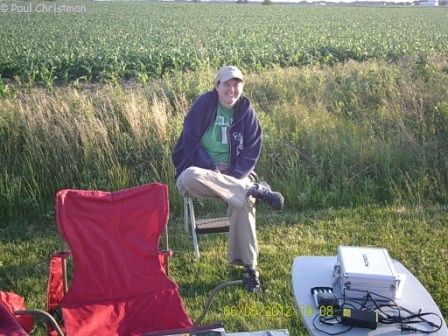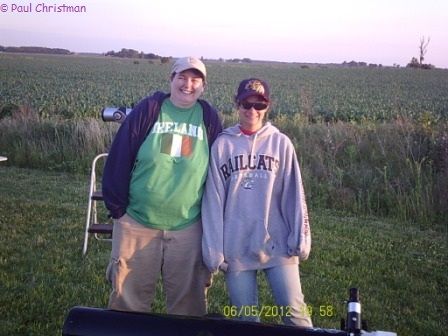 Katie stayed with Hillary and me for the duration that we had the transit.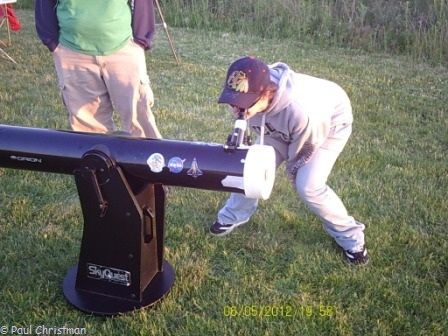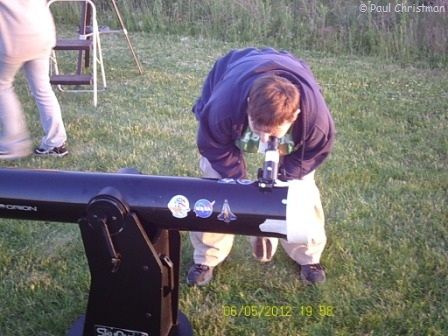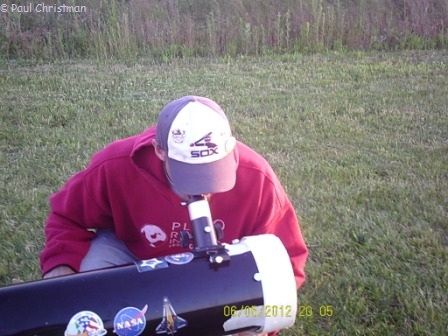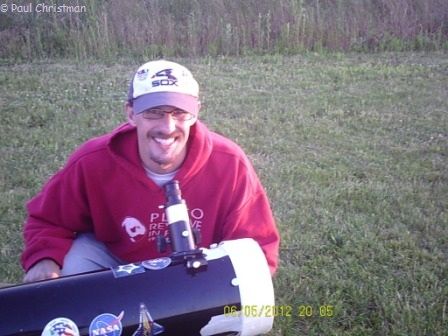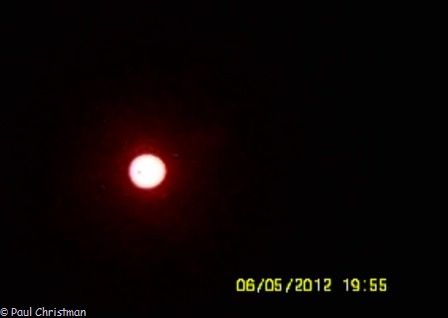 Another look with eclipse glasses with the Sun lower. There is a dot visible, but Venus should have been around 2 o'clock on the Sun.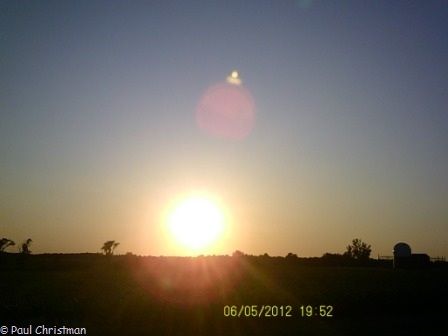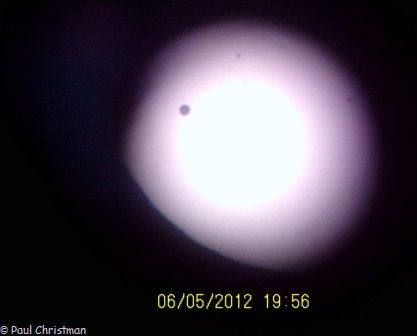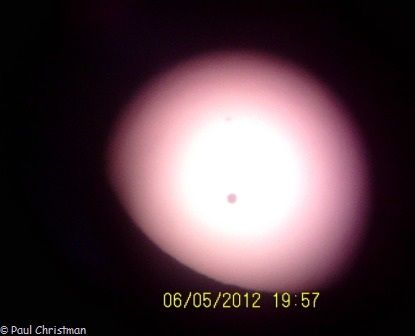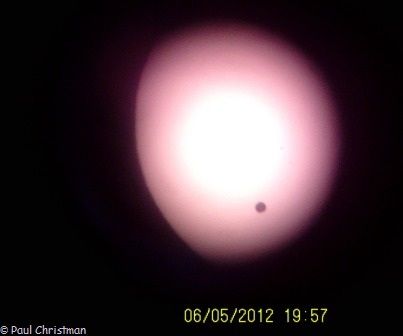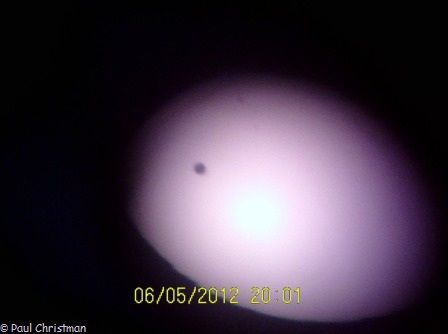 Far off to the west is a north-south flight corridor in and out of Chicago. In the still of the night, it's not hard to notice, but even in fading daylight, it's tough to see those distant planes. I saw one pass directly in front of the Sun while looking through my Dob, just barely missing Venus. I'd been taking advantage of the reduced glare to get transit images, and had just missed getting the plane in a picture. Not long after seeing that plane at the eyepiece, we saw a couple of them pass through on the Sun Funnel. I got decent pictures of one of them, again not missing Venus by much.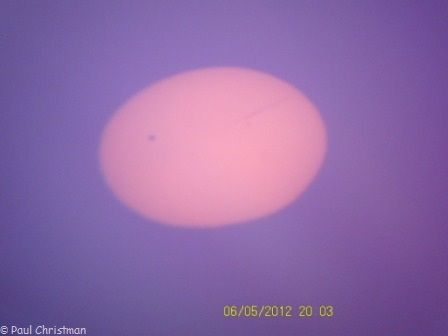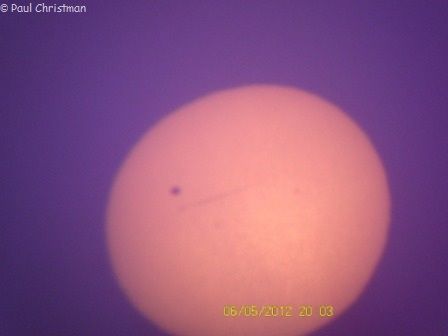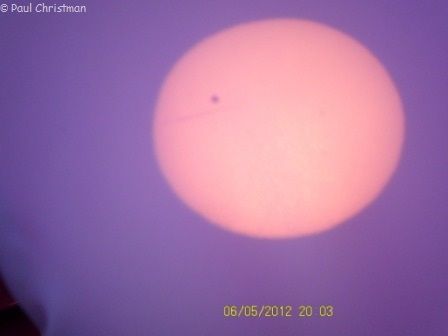 Fly-by sequence.
With the Sun sinking quickly, I saw one women hanging around with a camera, looking like she wanted to get a picture of my projection image. I told her, "You can't wait. You have to get a picture NOW." Right after that, Katie said she saw something in the eyepiece, and then realized it was a tree. Like Leo and Kate trying to stay on Titanic to the very end, I had to abandon my low sitting Dob first, then my go-to. In what I thought was a brilliant move, I repositioned my projection setup to take advantage of a break in the treeline. However, there wasn't enough sunlight for quick alignment, and in the few seconds it took to find the Sun, only a tiny sliver of light hit my projection screen. Our transit was over, and I gladly surrendered the Sun to parts west, enjoying or eagerly anticipating their own Transit of Venus experience.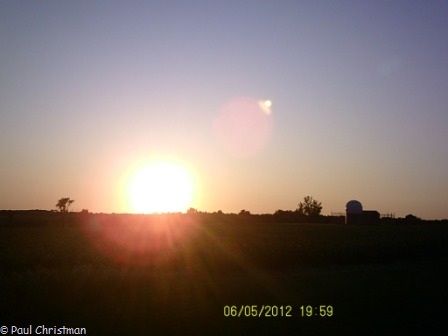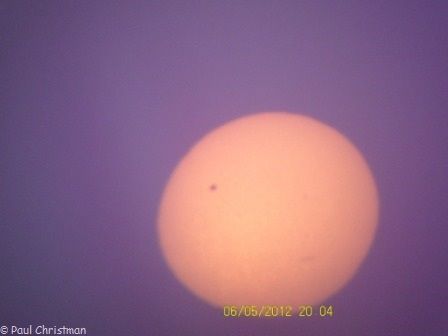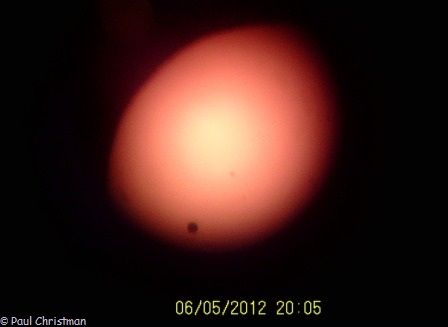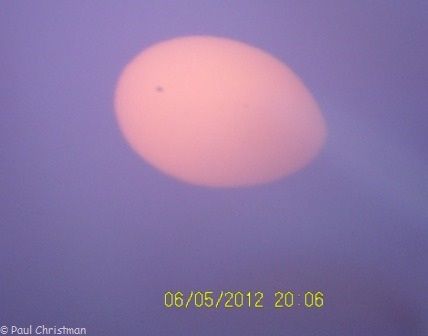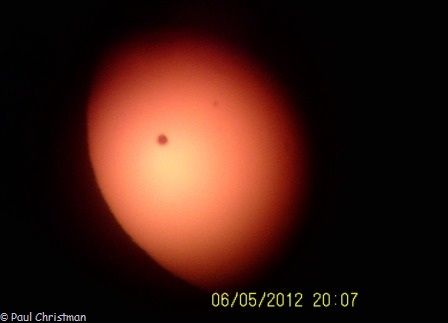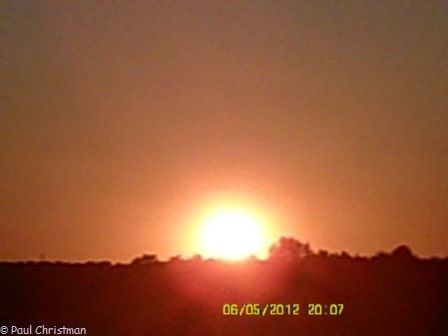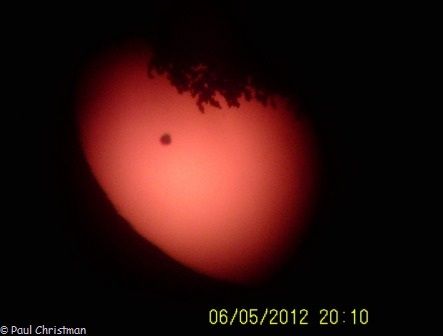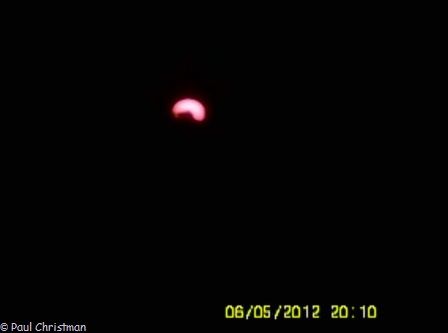 Eclipse glasses again.
Roll credits. Show's over.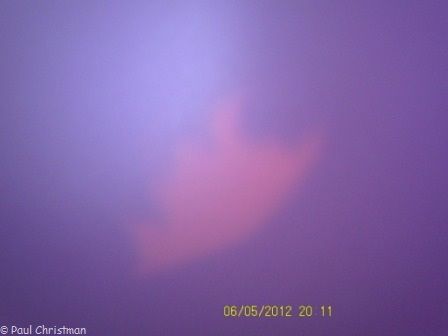 The day's last light on the Sun Funnel, but Venus is gone.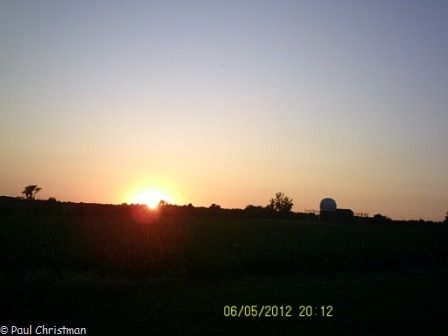 Afterglow.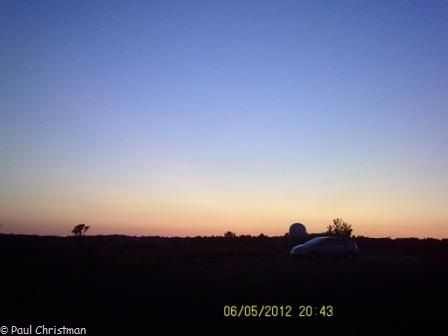 Katie left with the Sun, but I took a little while to let it all sink in. Eventually, I slowly packed my gear, then closed the observatory roof. By the time I closed the building, only Hillary and I were left. We'd been there over twelve hours; the first to arrive, and last to leave. Perfect.
All day I had worried that Chicago Astronomer Joe might not see the transit due to a family emergency. It weighed heavily on me, this cruel twist of Fate, but I was able to put it out of my mind. I knew he would appreciate the thoughts, but wouldn't want it to hamper the experience of any of his friends. I came up with the idea to sign and date one of the pairs of "eclipse glasses" that had "seen" the transit to give to Joe, not yet knowing that he'd had an hour to himself to see one last Transit of Venus. A tear of joy came to my eye when I saw him post a picture of the transit on Facebook later that night.
Joe, and all Chicago Astronomers, were represented.
We had one last transit experience while driving home. I had a feeling that Expedition 31 astronaut Don Pettit would observe the transit aboard International Space Station, and he did. While driving north on I-65, I looked to my left at 10:42 PM, and saw ISS coming up under Leo. I forgot to wave, but I wondered which orbit they could best observe the transit.
When I finally got home, I started perusing the transit pictures being posted to Facebook and elsewhere on the web, letting my own experience solidify in my memory. Jeremiah Horrocks was first to see a Transit of Venus, and I think has probably said it best:
"A most agreeable spectacle, the object of my sanguine wishes, a spot of unusual magnitude and a perfectly circular shape…"