Here is a link to a story I wrote today about my experience last night in downtown Valpo, viewing Saturn with the public.
In the spirit of Global Astronomy Month 2010's "Saturn Watch" week, I figured I would take my telescopes somewhere public. Last night I headed to downtown Valpo, walked around the courthouse square, and found a place that I thought would be good to view not only Saturn, but Venus, Mercury, and Mars as well.
Porter County Courthouse.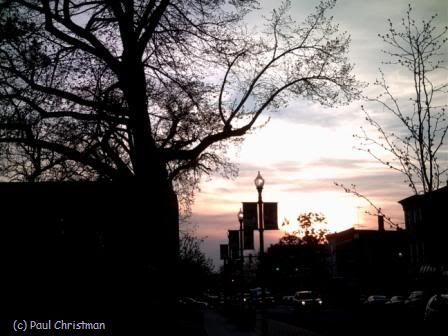 Looking west down Lincolnway.
Looking east down Lincolnway.
There were scattered clouds threatening both the eastern and western horizons, but I figured they might clear as night fell. It was early, and the Sun was still well above the buildings of west Lincolnway. I needed a caffeine jolt anyway, so I walked down the block to a little coffee shop for an iced coffee.
The cutie at the counter fixed me a perfect French vanilla coffee, and I sipped it while walking back to my car. It was still too early to set up, so I wandered down the block, taking pictures of the Porter County courthouse, and once the Sun dipped out of sight, scanned above the clouds to the west with my binoculars for Venus. No luck. With my coffee half gone already and craving another, I stashed the binos and went back to the café.
I told the little cutie that the first coffee she made was perfect, and I noticed her shirt had planets and comets on it. That had my curiosity, so I asked her about it. She said it was her boyfriend's, but she liked it. I told her I was about to set up my telescopes to see Saturn, and she thought that was so cool, but she wouldn't be off in time to see it. She clearly loved astronomy, so later I went back and gave her a copy of my best Saturn image yet, with a message that she should add me on Facebook to keep up on astronomy news.
So I went back to set up the telescopes, but it was still too early for even Venus. I could see it with my 10x50 binoculars, but not with the naked eye. Soon enough, a guy biking through town stopped by to see what I was doing, and we talked astronomy for a few minutes, and I explained Global Astronomy Month 2010's Saturn watch, as I did with all the others who had a few minutes to chat. I still couldn't find Saturn with the binoculars, but Venus was getting bright, so I pointed it out to him before he pedaled away.
Venus over Valpo.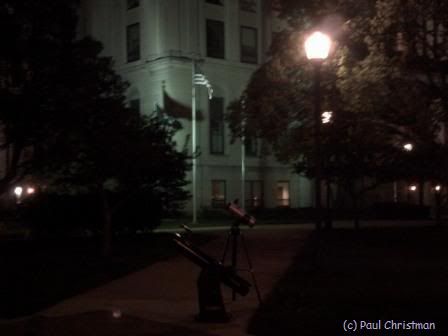 Telescopes in front of courthouse.
Mars became visible after that, and I was giving it a look when I heard a girl walking by say to her boyfriend, "It's a telescope." I looked up and asked if they would like to see Mars. They came over and took a look, and I pointed out that Saturn was the real attraction tonight, and that it would be visible in a few minutes. They continued on, but I was pretty sure that if they came back while I was still out they would want to see Saturn.
I was a little disappointed that there wasn't much foot traffic for a nice early spring night. I would have done better on the other side of the street, because Paparazzi's bar was getting a lot of business, but the sidewalk there was narrower, and I was sure that I would be warned about obstructing traffic. Still, I had a few curious people come over, but probably twice as many that walked right by without a word. One guy out walking his dog, Oliver gave Saturn a look in both telescopes (I was tracking with my go-to Meade at low magnification, while using my Orion Dob for a close-up look) and was really impressed. Ollie was eager to get going again though, and was tugging at his leash. Pretty dog (I'm not sure what breed he was, sorry), but he didn't cooperate much in posing for a picture.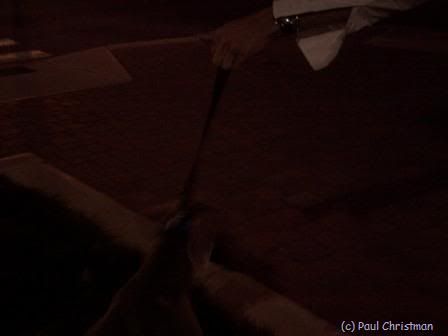 Pooch Oliver
The couple (I didn't get their names) who had seen Mars was leaving after dinner. The girl said she had looked forward to seeing Saturn while eating, and the ringed giant didn't disappoint.
The dinner couple looks at Saturn.
Another couple, Brian and Jamie, stopped for a look, and we talked a bit before picture time.
Brian and Jaimee.
After they left, I stayed out for ten or fifteen minutes, but the south side of Lincolnway was devoid of pedestrians, so I packed up my telescopes and went home.
The conditions weren't good, with a general haze all around, and a strong breeze making Saturn's image dance in the eyepiece at times, but when he had an audience, Saturn seemed to perform at his best. I had hoped for dozens of people to see Saturn, but had to settle for about ten. All the people I talked to asked about all the lights around, so at least they are somewhat aware that light pollution is hurting our connection to the night sky. I hope they will all be looking for Saturn on their own soon, and seeing for themselves how devoid of stars our cities and towns are.