Despite calling off a scheduled galaxy session at Conway Observatory Saturday, April 21, the sky looked halfway decent early in the night. I had some things to do, then went to Conway. By the time I arrived, clouds had moved in, and it turned out to be a sucker hole night, and not a good one at that. Mostly I figured I'd try to catch some Lyrid meteors, but that was futile (I only saw one). While waiting out sucker holes, I finished my full aperture solar filter for my 6" Dob.
I was anxious to test out my new Baader film solar filter Monday morning, but I needed to sleep more. When I woke up, I saw an email from Bill that he'd finished his Baader film solar filter, and also wanted to test it. We met at Conway around 6PM, long enough before sunset to do some good solar observing.
We each set up our own scopes with solar filters, and I also brought out the society's solar scope and Coronado. With a little bit of playing around with the Coronado, we were able to see some nice prominences and a few filaments. There was also a lot of sunspot activity.
4.5" Newtonian with 2" masked Baader solar filter.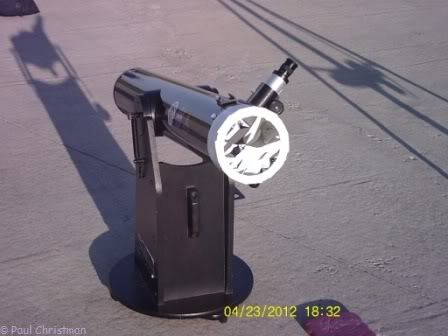 6" Dobsonian with full aperture Baader solar filter.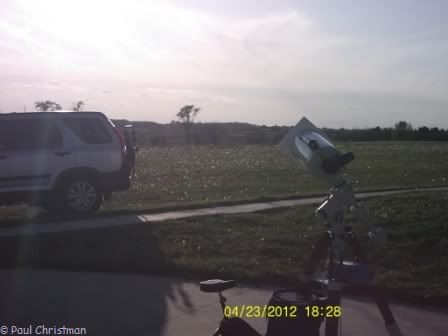 Bill's CAT with a masked down Baader solar filter.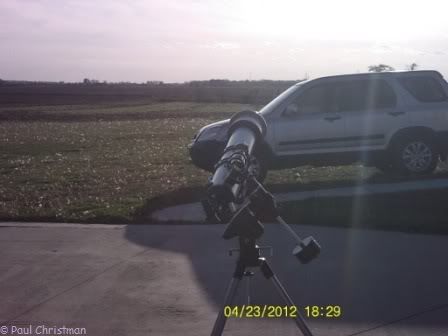 5" refractor with Coronado H Alpha solar scope riding piggyback.
What really caught our eye, though, was a prominence near the solar north pole. It seemed to be sticking straight out of the solar limb like a whale when it comes up for air. I had to check the latest images from NASA's Solar Dynamics Observatory for comparison.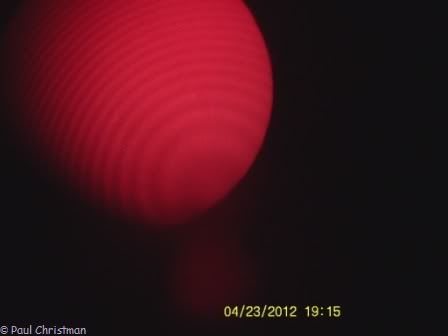 The 6" solar filter easily outperforms the 2" filter on my go-to Newtonian. However, Bill and I both noticed that the image seemed "cloudy." The resolution was fine, but there was an appearance about the overall image like when an eyepiece starts to dew. I wondered if the inside of the OTA was hot? The telescope had been in my car all day, and then placed in the warm sunlight. The images in my 4.5" Newt and Bill's CAT looked fine, but those telescopes are lighter colored, and might reflect heat rather than warming up the optical tube. More testing will be necessary, and cleaning the optics wouldn't hurt.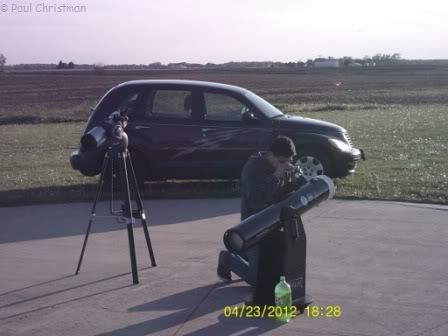 Bill checking out the solar view with my Dob.
I like how Bill built his solar filter. Mine is a temporary job (just poster board and masking tape), but will work if I don't get around to something more permanent before the Venus transit. Bill's aperture mask velcroes to the full aperture filter. I'm working on an aperture mask, but it will just slide over the full filter.
Despite using visual observing Baader film, I was able to get decent images of sunspot groups, although it was hard to find a focus in the daylight. With practice, I think I can do an okay job of solar imaging without buying the photographic Baader film. I couldn't get recognizable solar images with my 4.5" Newtonian and 2" filter, I think because the mask was killing too much of the sunlight.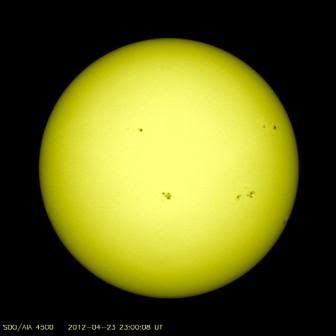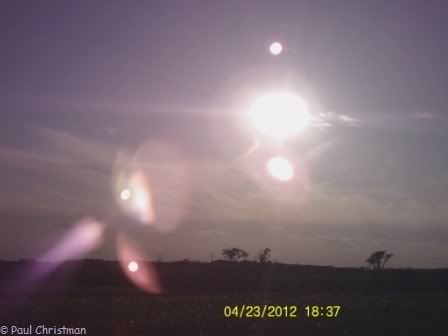 As the Sun set, we had an interesting situation when the Sun dipped behind a distant bank of clouds. They dimmed the daylight enough so that Venus was visible at 7:24 PM, before sunset. We didn't see the sliver Moon until six minutes later, at 7:30 PM.
Bill targets Venus before the Sun was down.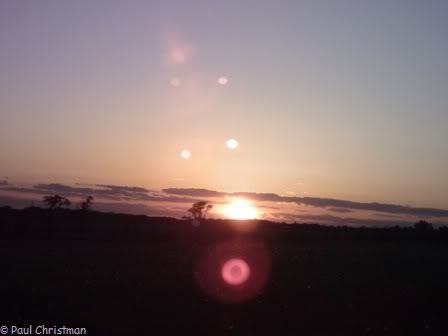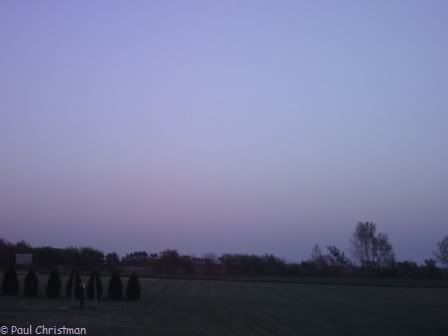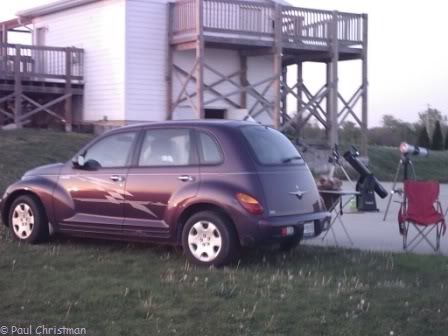 Of course I observed the Moon and planets in the twilight, but I was much more interested in the Blackhawks game, and was listening over the internet. They were facing elimination (and lost). We watched when International Space Station passed by at 8:58 PM CDST, and got a little treat when a dimmer satellite seemed to pass right through it.
First look at the young Moon.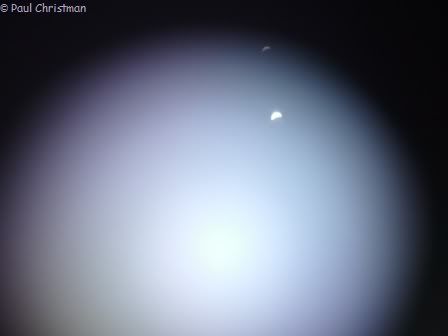 Venus.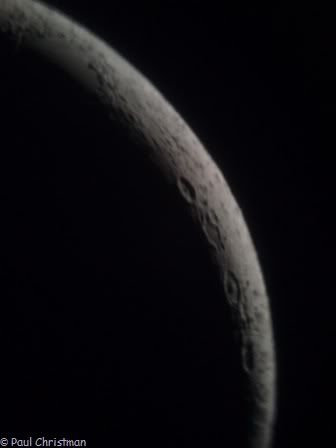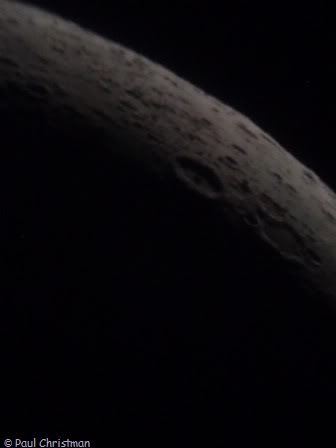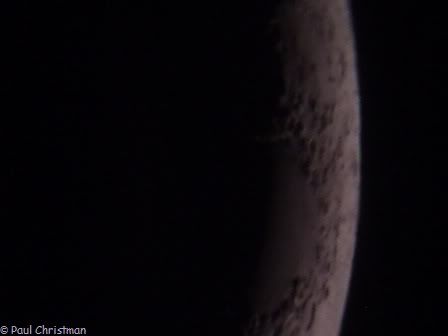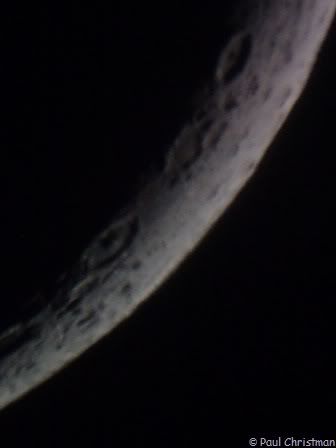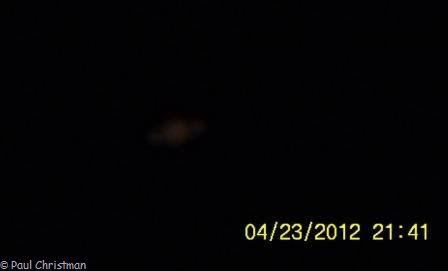 My only attempt at Saturn for the night. :'(
I saw our favorite comet of the last year (my favorite comet ever). I tracked down my second favorite galaxy, M104, before calling it a night and going to work. All the night sky observations were a bonus, as this was first and foremost to me a solar session.
After I got to work, I saw on Facebook that the aurora borealis was visible from the Indiana Dunes. I'd heard the possibility of aurora Monday night, but didn't think much of it. I gave a few looks north while at Conway, but saw nothing. Farther north, on the beach, the sky is dark enough with a flat horizon, that the aurora was visible out over the Lake. It will be hard to plan, but maybe when we have some advance warning of an incoming solar storm, this would be a good place for an observation.
Photo credit: Indiana Dept. of Natural Resources
After this solar session, I'm one step closer to being ready for the June 5 Transit of Venus. I still have some procuring and preparing to do, but if those plans fall through, I will still be able to conduct a good observation, and put on a good show for the public. Everything is falling into place, just in time.