As always with a Chicago Astronomer session, do yourself a favor, and read the full account
here
.
When we do astronomy sessions for the Chicago Park District, I try to arrive early when traveling to a park I've never been to, in case I get lost. With the last Chicago Park District-Chicago Astronomer session of the year at Palmisano Park at 29
th
& Halstead, near the White Sox ballpark, there was little chance of me getting lost. I arrived early anyway, because I like to set up in daylight, and scout the surroundings.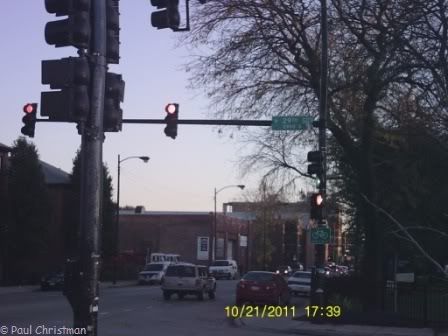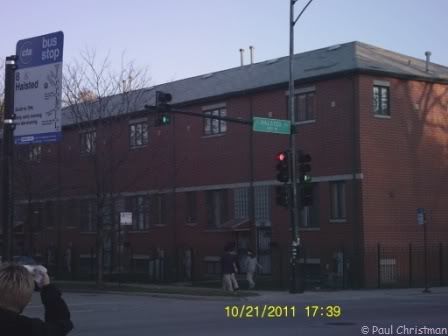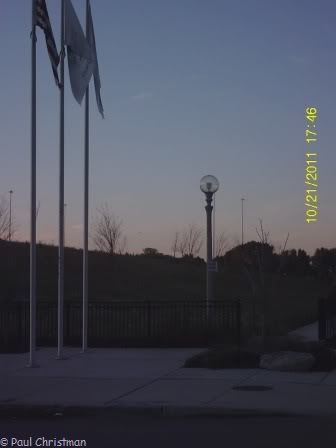 Our set up site at 29th & Halsted.
I wandered around, and climbed the hill. The top of the hill would have put us above the pesky streetlights that hinder sidewalk observing, but it was agreed that it was too far to haul heavy equipment, and would cut down on foot traffic. And, it was kind of muddy. The top of the hill, though, provides a nice view of the city skyline, and the power plant smoke stack that we see so often in Joe's alley observation pictures. I even caught a sundog just before sunset.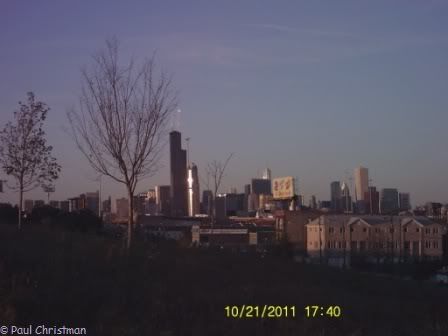 The downtown sky line from the top of the hill.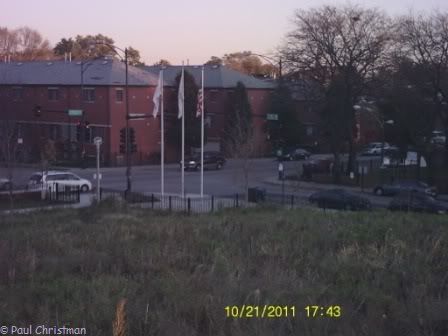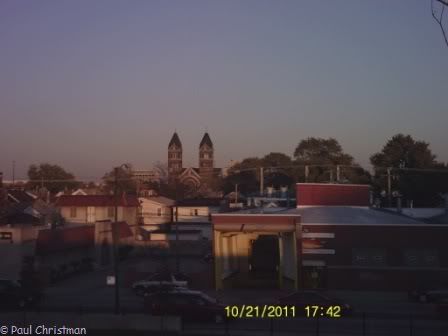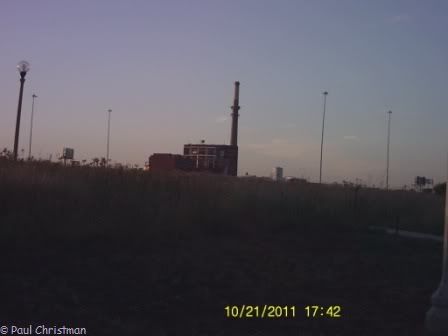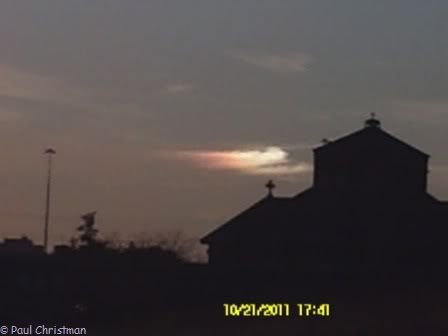 Not the best sundog, but still cool.
After the Sun set, I caught faint rays of sunlight glowing above the horizon. They're still hard to see in these pictures, but I've manipulated the color and contrast to try to show the rays better.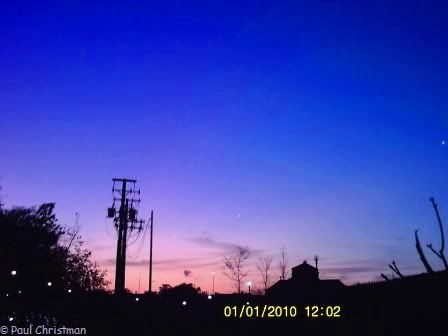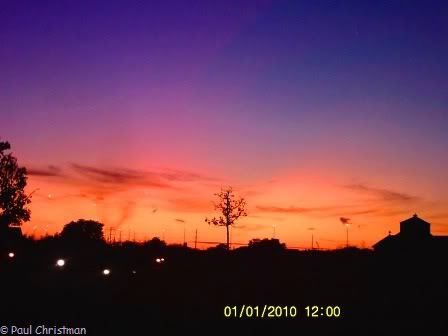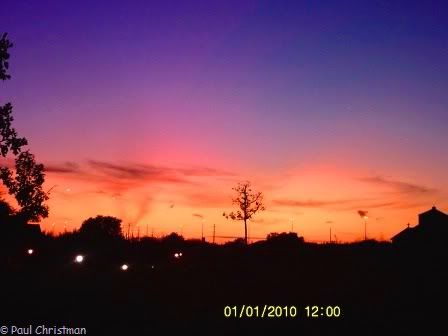 I started getting ready just before Rich arrived, with Joe following shortly after. Joe brought out the "sewer pipe" Dob for me to use. I had seen it in pictures, but never in action. I wasn't sure what to expect from it. I'll come back to it's performance later. Even before full darkness fell, and before telescopes were ready for viewing, we started drawing a crowd. For the first time at a Park District observation, there were even visitors seeking us out.
The "sewer pipe" Dob makes a rare appearance.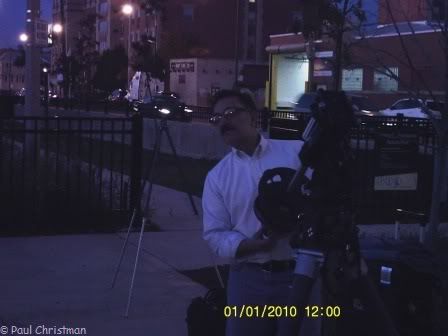 Joe prepping the C11 mount.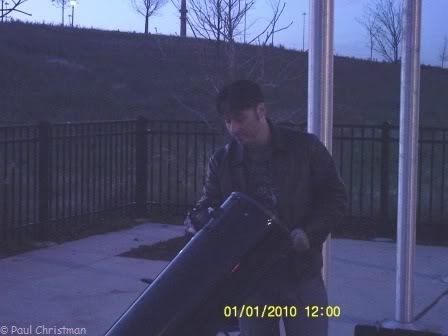 Rich's 10" Dob is almost ready to go.
The sewer pipe Dob was heavy, and a bit awkward to carry, so it took both Joe and I to carry and set up. There was no sort of finder scope for the Dob, so Rich lent his Telrad to make finding things a little easier for me. Under so many streetlights, it's difficult enough to find celestial delights; with no way to scout the sky, it's almost impossible. We wrapped the Telrad with duct tape to attach it to the OTA, which worked for awhile. At some point though, it was bumped into, and never held just right after that, even when wrapping it with more tape. At that point, I gave up on the scope until Jupiter was up, which wasn't long after. The sewer pipe gave nice Jovian views, at both low and high magnifications. At the end of the night I recommended to Joe that the scope was worth trying to modify for more regular service.
I showed Albireo with the sewer pipe Dob until the problem with the Telrad. At that point, I capped it, and set up my own Dob. Within a few minutes, however, Jupiter had risen above the neighboring buildings, and I kept both scopes targeting the Jovian system the rest of the night. It was quite a bit of work to keep up with both scopes, but it cut down the waiting time. Also, being nearest the intersection, I think it fell to me to make first contact with many of our visitors, keeping me even busier. I felt up to the task.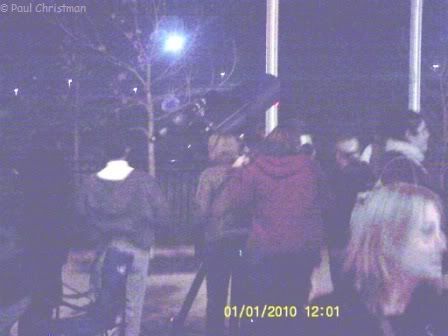 The C11 always draws a crowd.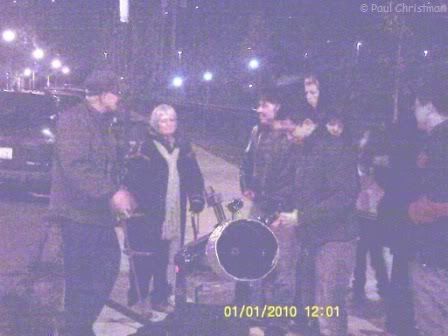 Bill made a brief visit, checking out Jupiter.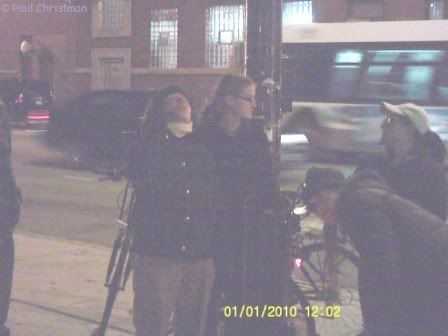 Think we had enough scopes showing Jupiter?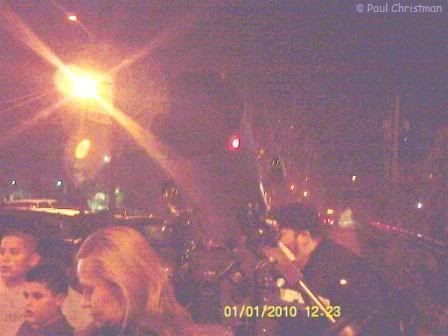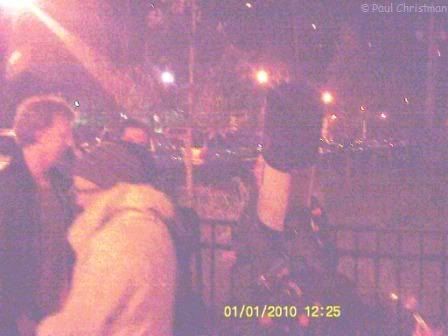 Patrick was able to snag some tougher targets with his go-to scope.
It's always good to make friends with Chicago Police.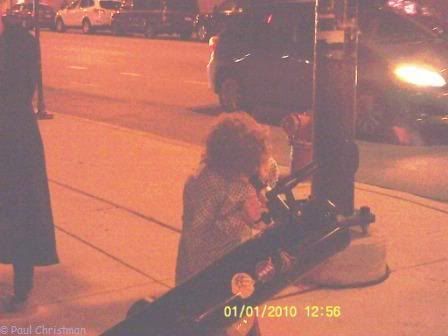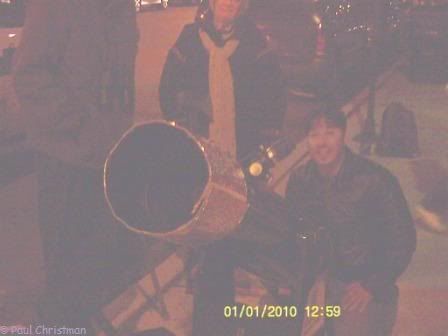 Rich handled the last of the crowd while the rest of us packed our gear.
When Jupiter first rose, only three satellites were visible. When a fourth Moon emerged, it was correctly assumed to be Io. However, shortly after, I noticed a shadow on one of the cloud bands, and assumed that Io must have transited, and now it's shadow was crossing the planet. After checking Redshift, I now know that Io was occulted behind Jupiter, and the shadow most likely belonged to Europa, or possibly Ganymede. It could not have been Io's though. It was still fun to show the solar system in motion.
Patrick was the last of our astronomers to show up, and I didn't have a chance to talk to him before we set up. Despite an almost non-stop stream of visitors, I snuck off at one point to check out what he was viewing. From a distance I figured it was either Andromeda Galaxy or the Double Cluster. I was treated to a quick peek at our neighbor galaxy. Ah, the benefit of a go-to scope under bright streetlights.
It was a cold session, but with the constant action, I hardly felt it. I did notice dew nearly everywhere, though. The time zipped by, and before I knew, Heather from the park district advised that we should call it a night and pack up. We were still drawing a crowd though, and Rich handled the late comers while the rest of us got ready to leave. We took a parting group picture, but for Patrick, his friend Jason, and me, our night of observing was about to begin in earnest. They followed me to back to Indiana for more viewing at Conway Observatory until the wee hours. The session at Palmisano Park, wrapping up the observing season for the Chicago Park District, felt like an overwhelming success, and I'm already looking forward to helping out again next year, if they wish to continue the program.