If I was independently wealthy, I could spend my days observing the motion of the Sun through the sky every clear day. Then, using a gnomon and marking the Sun's shadow throughout the days and weeks of the year, I would have known the summer solstice was yesterday at 12:16 PM CDST. Since I don't have the time to devote to those observations, I have to trust that every astronomical source listed that time as the point when the Sun shined directly over the Tropic of Cancer.
With a partly sunny day, I decided I would observe the Sun as it reached the solstice. The main point of the observation was to see how high the Sun appeared, both at the moment of solstice, and local high noon. Fortunately, here in Northwest Indiana, those two times were close together.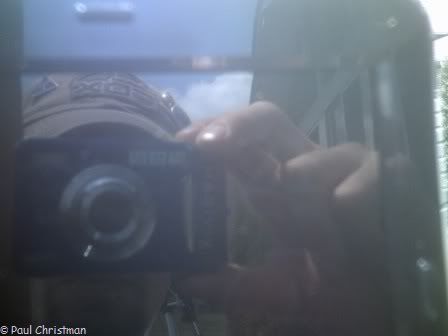 This was supposed to be a picture of date and time on my computer desktop gadgets, but all I got was my own reflection due to the strong sunlight.
The telescope was pointed very high, looking at the Sun just after the solstice, but before local high noon.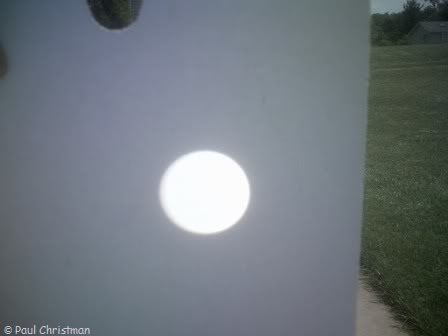 One large sunspot was near the center of the solar disk.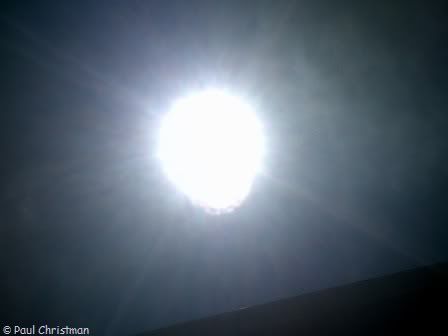 Using one of the tripod legs of the solar telescope as a gnomon, I found that the Sun transited my central meridian at 12:48 PM CDST, only 32 minutes past the solstice. I wonder how rare it is for the summer solstice to fall so close to local high noon?
I used the front leg of the tripod as a gnomon. The crack in the patio runs north-south. The shadow is not yet covering the crack.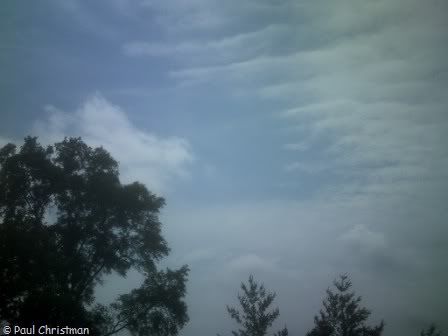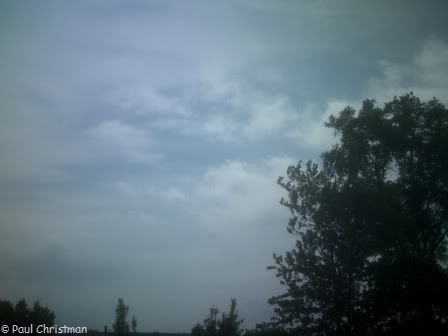 Clouds rolling in threatened to ruin my high noon observation. Shadows faded, but didn't disappear.
The Sun reached the central meridian, it's highest point, at 12:48 CDST, thirty-two minutes after solstice.
The Sun was now past the meridian, and I ended the observation.
Today's sunset will be a little earlier than yesterday, and a little further south, until we reach the winter solstice in December. As an astronomer, I welcome the longer nights, and will appreciate that the summer Sun won't be quite as high when I'm observing sunspots (or other solar features).