Last night we had some lake effect snow, not as much as anticipated, but the threat kept me home, and killed any thought of evening telescope time on my night off. However, I went out at 4:30 AM this morning to shovel the driveway. It was less than two inches, but needed to be cleared. It was still cloudy, but of course I was keeping watch for any sign of clearing. By 5 AM, sucker holes were opening up, so I shoveled the back patio when I finished in front. After warming up my fingers and toes, I decided to try to catch our three morning planets.
At 5:56 I brought out both telescopes, but didn't want to waste precious minutes before daylight orienting my go-to scope, so I only used the Dobsonian. The sky was clouding up again, but then mostly cleared right away. Saturn had the first window through the clouds, but it was brief, so I turned to Venus, which was just casting off the last of it's cloud cover. The illuminated side of the planet has been growing, and last week's fat crescent has become a half-disk. Just as I was observing the half-Venus, I remembered that it was at Greatest Western Elongation yesterday, and Mercury was at Greatest Western Elongation today. Both planets should appear as half disks.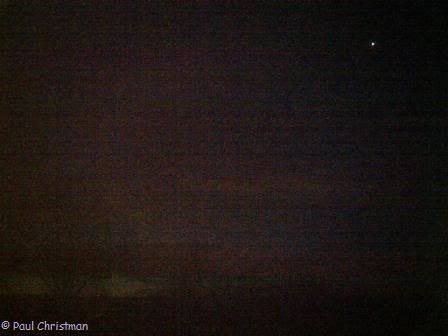 Venus, still shining brightly.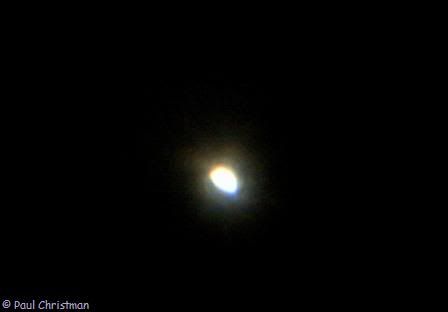 My best Venus picture of the session. It is so bright that it overwhelms my camera, and conditions for photography were bad.
Mercury was just above a distant tree, so I checked to see if I was right. With bad seeing conditions, I didn't get great looks at Mercury, but at best, it did appear as a half disk. As it climbed higher, it darted between and behind the last remaining clouds to the east, and observations were limited.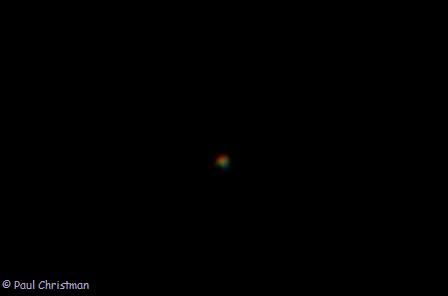 A cloud then covered Mercury...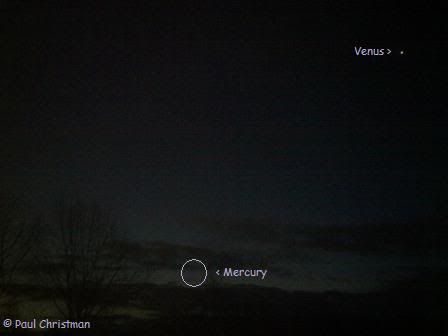 ... but it came back for a few minutes.
With freezing toes, I was almost eager for daylight, but Saturn could not be denied. I waited and waited for clear seeing, and although those moments came sporadically, and I was pushing magnification to the limit, I have yet to see either the storm that has recently been discovered, or the Cassini Division. The storm I may not get to see, but as Saturn nears opposition, I'm sure I will eventually see the Cassini Division.
Saturn. Planets are so hard to get in focus with my point & shoot camera.
With a little luck, this morning I caught the inner planets, Venus only 20 hours past GWE, and Mercury four hours before GWE. I doubt they reach the same greatest elongations with a day of each other often, so I enjoyed seeing our fellow rocky planets both at a half phase. Another cold, short session alone, spent with three planets.